From the top of Kentucky's second highest mountain, a nonprofit is working to provide a hub of resources focused around Music, Arts, Re-creation, and Sustainability.
These four areas form M.A.R.S. Collective, a fitting name for their mission and their galactic location at Wiley's Last Resort, a storied property along the Pine Mountain corridor in Letcher County.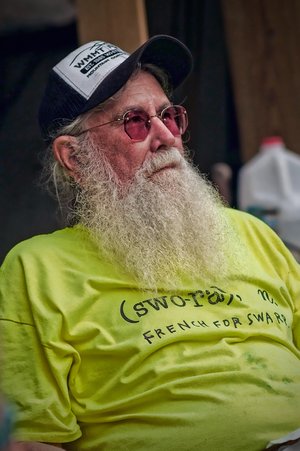 M.A.R.S. got its start years ago as an effort by the late Jim Webb. Jim was a legendary writer, community activist and artist. After years of fighting for a cherished 90-acres of land he grew up near, Jim finally became the owner of the property in the 1990s. The mountaintop land took on the name Wiley's Last Resort after his WMMT radio personality Wiley Quixote. Until he passed in 2018, Jim frequently opened Wiley's for special events, saying it was always to be a place for misfits and intellectuals, "dedicated to making the world a little bit better place, the preservation & perpetuation of wildlife, music, poetry, fun, fol-de-rol and communing with Nature."
Today, Steve Justice is the caretaker of Wiley's Last Resort, which continues to host special events and soirees throughout the year. Jared Hamilton, a photographer, videographer and muscianer, works alongside Steve to lead up M.A.R.S., the nonprofit side of Webb's vision.
The collective is guided by its members and a diverse board of directors. The group likens their work to a figurative flamingo, a bird loved by Jim. The M.A.R.S. version of the flamingo, however, has four wings:
· Swarp Co – This wing is the production company that puts on music-centered events at Wiley's Last Resort throughout the year. Concerts and festivals focus heavily on supporting local music from Kentucky and Central Appalachia, but also bring in global talent where possible.
· Flamingrow Gardens & Heirloom Museum – This area of MARS celebrates Appalachian agriculture and the tradition of fierce independence in living off the land. With a learning garden and high tunnels that teach about a variety of heirloom plants, they are building off the great work happening in other areas of Eastern Kentucky with the Grow Appalachia initiative.
· Bad Branch Institute – This wing builds educational opportunities for the surrounding communities using M.A.R.S. members' areas of expertise in music education, arts and media creation, sustainable foraging and gardening, nature education, and mental, physical, & spiritual health. The name comes from a group of Jim's friends who had a vision to create an institute offering writers retreats and other educational events at Wiley's.
· Kudzu Media – The final wing is a media cooperative for artists and creatives. So far made up of nine amazing area artists, they partner together on new collaborations and help garner new commissions for each other.
To help communicate about the suite of opportunities available through M.A.R.S., the Mountain Association supported the development of a website by collective member Malcolm J. Wilson.
The website was completed in the weeks before M.A.R.S. Fest, their premier event, coming up July 14-17, 2022. From wild medicinal herb and plant identification to yoga, to a host of music performances and film screenings, the Fest has something to offer from each wing of their "Frankenmingo." They invite you to join the fest. They have strived to keep tickets at an affordable price of $50.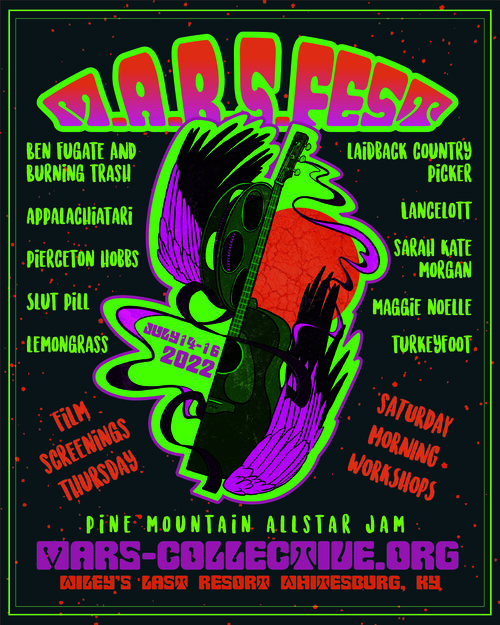 The collective itself offers two affordable membership categories outlined on the website.
We encourage to you to take a trip to the M.A.R.S. website to learn more and enjoy stories and photos from Wiley's over the years.