After opening our Hazard office in 2011, we wanted to invest further in building the local economy to better support existing businesses. Because building vibrant communities where people want to live, work and play is a critical part of a just transition to a new economy, we explored two different areas: Art and food. This type of community building is referred to as "creative place-making," a term that describes partners from public, private, non-profit and community sectors working together to strategically shape the physical and social character of a community to create welcoming spaces.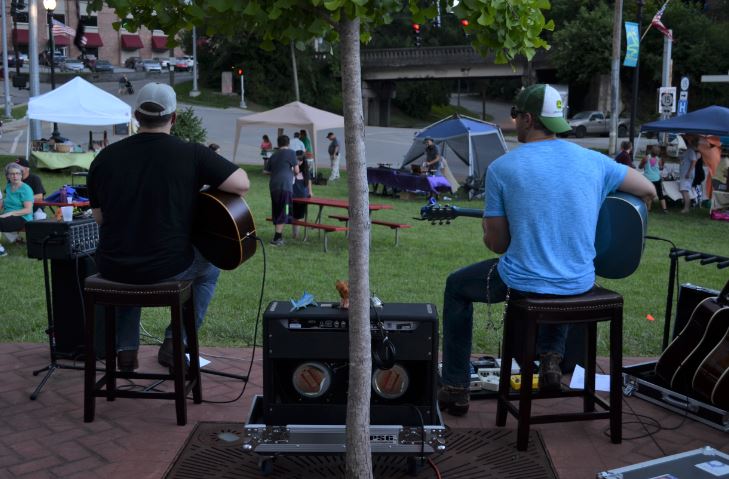 We saw an opportunity to change local perception of artists and the community by engaging local artists as entrepreneurs with a product to sell. With support from Rural LISC, the Mountain Association created Thursdays on the Triangle, a summer art series that leveraged an under-utilized community park anchoring one end of downtown. Local musicians perform and artists demonstrate and sell their craft. Farmers sell produce at the market, and food and beer vendors are on site. There is no cost for setting up a booth because we wanted to remove possible barriers to participation.
The location in Triangle Park had been a gathering space for young people in Hazard in the 1960s and 70s, and many of those young people remain in Hazard working as professionals. The Mountain Association used grant funds to purchase tables, tents and equipment to open a bi-weekly artist marketplace, at which regional artists could set up and sell their products, alongside the local farmers' market. A key principle of the event was demonstrating that artists were working entrepreneurs, and their products had economic value. This was important to help the community understand that art played a role in building and supporting the local economy, but also to help our local artists understand they were, in fact, entrepreneurs.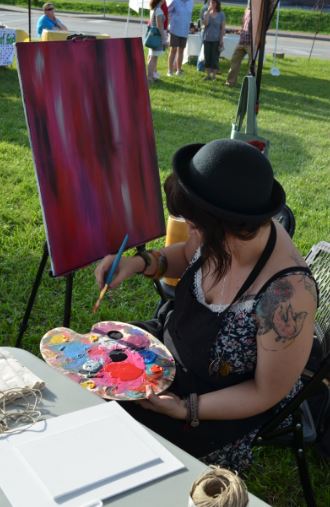 To this end, we made a point of establishing a local benchmark for paying working artists, and hired two artists to make art on site at all of the eight events each year. We also paid for live music at each event. Rates were set with assistance of the Kentucky Arts Council, and included additional reimbursement for consumable supplies used at the events. We also worked with the City of Hazard to change local ordinances to exempt local artists from business licensing costs, making it easier for small-scale artists to test-drive art-entrepreneurship at the event.
The first year of these events saw as many as 400 people attend Thursdays on the Triangle events. We continued to coordinate the event with support from the Perry County Community Foundation and the Hazard/Perry Chamber of Commerce until 2019 when we transferred planning and coordination of the events to the Appalachian Arts Alliance.
By providing a barrier-free marketplace to local food and farm vendors, Thursdays on the Triangle provides a unique mechanism for local food producers to sell their products to the community. And since the event is free and open to the public and located in the heart of downtown Hazard, the local community is an intrinsic part of Thursdays on the Triangle. The event encourages local tourism for visitors interested in experiencing the music, art and food of the mountains.