Community leaders representing energy communities from Appalachia to Wyoming to the Navajo Nation were invited to participate in a roundtable discussion at the White House on April 4, 2023. The event celebrated the range of new federal funding programs for energy communities that have been enacted over the past two years. Senior administration officials participating in the event included Treasury Secretary Janet Yellen, Energy Secretary Jennifer Granholm, White House Senior Advisor for Energy John Podesta, and Appalachian Regional Commission Federal Co-Chair Gayle Manchin. Mountain Association President Peter Hille was asked to speak at the roundtable, addressing how new federal funding can help build a new economy in Appalachia. 
Background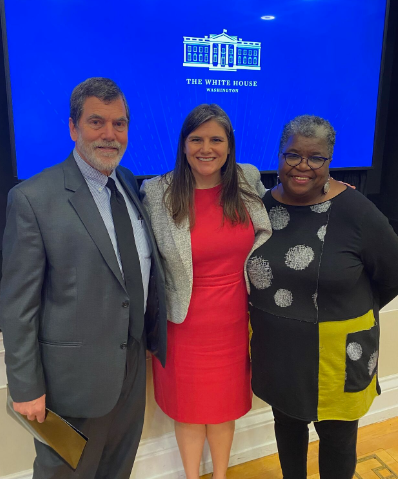 In January 2021, just one week after taking office, President Biden signed an Executive Order that vowed to put "the full force of the federal government" behind a new commitment to a better future for coal-impacted communities. The Order issued January 27, 2021, stated: "Mining and power plant workers drove the industrial revolution and the economic growth that followed, and have been essential to the growth of the United States. As the Nation shifts to a clean energy economy, Federal leadership is essential to foster economic revitalization of and investment in these communities."
Much of what the President outlined in his Executive Order reflects the approach that Mountain Association and our allies have been calling for over the past decade, recognizing the need for new investments to drive an economic transition for coal communities. Biden's Executive Order established the Interagency Working Group on Coal and Power Plant Communities (IWG).
April 2023 Convening
For two years, this Working Group has convened key agencies, including the Department of Energy, the Treasury Department, the Department of Labor, ARC, the Economic Development Administration, USDA, EPA, and more, to address the pressing need to coordinate and leverage resources for revitalization in these places that have given so much to the rest of the nation. In conjunction with the White House meeting, the IWG issued its two year report to President Biden. 
Representatives across the federal agencies making up the IWG celebrated that they had already driven more than $14 billion to the hardest-hit energy communities across the country in the two years (including $480 million in American Rescue Plan funds for economic development, $877 million for abandoned mine land reclamation, and $134 million in the largest-ever Appalachian Regional Commission awards to coal communities), and that companies have invested more than $7.4 billion in energy communities to spur clean energy manufacturing, steel production, and critical minerals processing. They underscored the administration's continuing goal "bringing manufacturing jobs back home and ensuring we rebuild our economy from the bottom-up and the middle-out, not top-down, so that no community is left behind."
The Treasury Department and the IRS released detailed guidance (on April 4, 2023) that will allow developers of clean energy projects and facilities to take advantage of billions in bonuses on top of the investment and production tax credits through the Inflation Reduction Act for locating projects in an energy community. These bonuses will incentivize more clean energy investment in energy communities, particularly coal communities.
The Energy Communities IWG released a Memorandum of Understanding between 11 federal agencies to work together to get new resources into energy communities. Agencies will support Rapid Response Teams, which provide more targeted, on-the-ground assistance, resources, and technical guidance to communities and regions facing acute and unique challenges.
Additionally, the Department of Energy announced the release of a Coal Power Plant Redevelopment Visualization Tool enabling stakeholders to identify opportunities for redevelopment of shuttered coal power plants and community reinvestment.
The Department of Energy also announced it is making $450 million available through the Bipartisan Infrastructure Law to advance clean energy demonstration projects on current and former mine land. Approximately 17,750 mine land sites are located across 1.5 million acres in the US. Repurposing this land for clean energy projects is estimated to generate up to 90 GW of clean energy—enough to power nearly 30 million American homes.
Additionally, the Department of Energy announced it is making $16 million available through the Bipartisan Infrastructure Law to the University of North Dakota and West Virginia University to complete design studies for the first-ever full-scale domestic demonstration refinery that will extract and separate rare earth elements and other critical minerals from coal ash, acid mine drainage, and other mine waste, reducing reliance on competitors like China.
The Energy Communities IWG continues to maintain a searchable clearinghouse of federal funding opportunities at EnergyCommunities.Gov which has identified over $500 billion in relevant or targeted funding opportunities for energy communities – up from $38 billion in April of 2021.
We are proud to have represented Kentucky's energy communities at the event. Peter delivered the following remarks at the roundtable:
There is an arc, a trajectory to the energy transition. In places where the mines and power plants are still operating, there are a lot of resources to work with and there is an active workforce. But there may also be deep denial of the changes that lie ahead, and the old energy industries still have enormous power and may be determined to hold on.

In other places, like the Navajo nation, the plants and mines have closed fairly recently. With those closures, the transition becomes undeniable, so there is a strong will to take action. And there is still a workforce there and an opportunity to put them back to work in the new economy.

But in Appalachia, we began losing jobs in the 1950's with the mechanization of the mines, and continued to lose jobs for the next 70 years, even as production increased. The jobs became more technical, and paid better, but with each boom and bust cycle workers left, and each time coal rallied again there were fewer and fewer jobs. The result is a hollowed out demographic where generations of workers have left and many of our communities have lost half of their population.

Now we face the daunting task of building a new economy amid the ruins of an old economy that extracted the coal, extracted the wealth, and ultimately extracted the workers. Building a new economy in Appalachia will take a lot more than just bringing in a new industry to replace the old one. We have to rebuild entire local economies and all the elements of community that are needed to support an economy—schools, healthcare systems, childcare, housing, infrastructure.

And we need to repopulate these places that have lost their workers and the families of those workers. To do that, we have to help communities recreate themselves as places where people can live, and will choose to live. And all those services and amenities that make a place livable are themselves economic drivers—think about the grocery store, the farmers market, the coffee shop, the bookstore, the restaurant, the brew pub, the hardware store. Think about the jobs to be had in building houses, adding solar to our buildings, and think about all the jobs at nonprofits on the front line of providing community services. Rather than thinking about a dozen projects that each create a thousand jobs, we need to be thinking about thousands of projects that each create a dozen jobs.

We can do this—we can rebuild communities so the young people growing up there will want to stay, and those who have left will want to return.

We have many strong organizations in Appalachia who have been working together to do this work for many years. We are poised to grow this work.

We are excited at the prospect of the new resources to do it—let me assure you, we are ready. So bring on the resources, but bring them with the flexibility needed, so that we can put them to work in communities all across the arc of the energy transition.
Get Involved
Just as we have over the past two years, the Mountain Association will continue to work closely with the IWG, participating in their events, inviting them to Kentucky as often as possible and advocating for more funding – and more accessible funding – for our communities. We will also continue to work with our partners in the National Economic Transition network and promote the opportunities that support communities accessing these funds such as the Just Transition Fund's Federal Access Center. These new federal investments are a once-in-a-lifetime opportunity for our region, and it's up to all of us to ensure we direct and apply these resources in ways that will make a lasting difference for the communities of Appalachia and beyond.
Upcoming opportunities to be involved with the IWG include the East Kentucky Leadership Conference on April 27-28, 2023, in Hazard, and the Rural Partners Network Community Forum on May 11 in Pineville, Kentucky.
---