There is no shortage of ideas about what is possible in Eastern Kentucky's future. Many people are trying to enhance and grow what already exists in the region, or invest in new and innovative things to help the economy thrive. Making these ideas realities, though, requires more than just the idea itself. It takes both monetary investment and perhaps more importantly, supportive public policy.

Because we know it takes inclusive policies to address systemic inequity and injustice in the region, and advance a new economy that works better for people and communities, Mountain Association established the Kentucky Center for Economic Policy (KCEP) program in 2011. Since then, KCEP has grown substantially, adding new staff and doubling down on research and advocacy about some of the most pressing budget and policy questions and challenges facing the Commonwealth, including healthcare, criminal justice and tax reform, and higher education. They play a vital role in informing policy debates with timely, credible analysis and through strong partnerships with community organizations.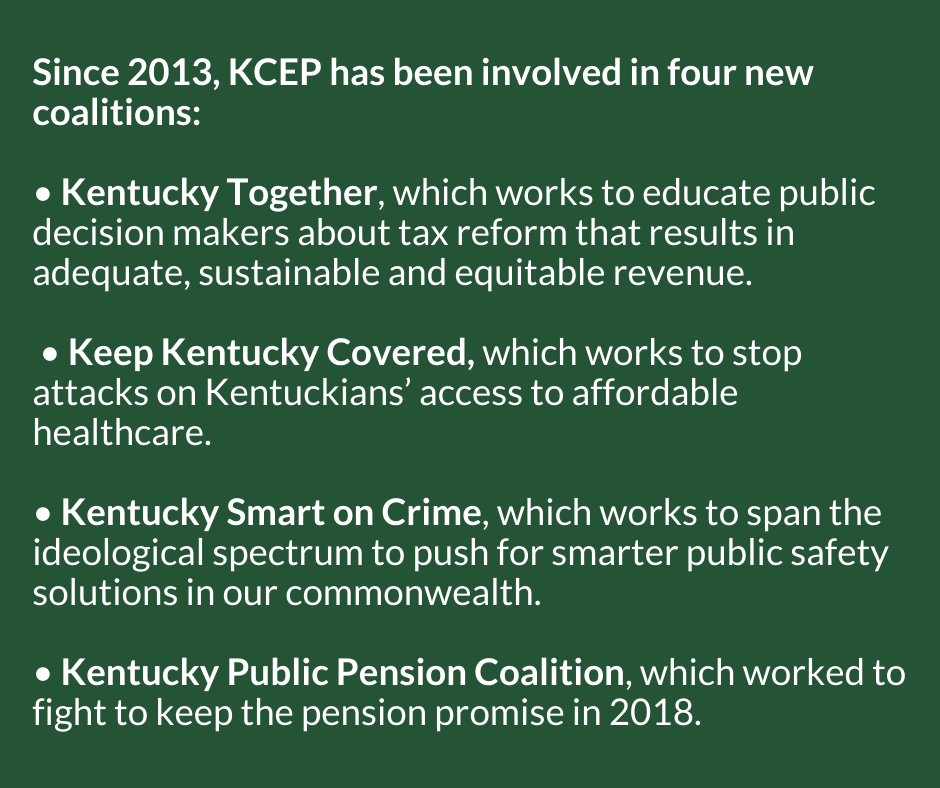 KCEP's analysis, education and advocacy about protecting health care recently helped stop proposed cuts to Medicaid expansion, which would have created significant barriers for 1.2 million Kentuckians, nearly 1 in 3 Kentuckians. During the 2019 General Assembly, KCEP was part of successful campaigns to pass workplace accommodations for pregnant women and new moms, defeat expensive private school subsidies that would have taken resources away from public schools, prevent deep cuts to unemployment insurance, beat an overly generous tax break for investors that falsely claimed to benefit rural communities, and block a proposal that would have taken away health care, food assistance and other forms of support from Kentuckians facing hard times. They are consulted by and cited in the media often for research and perspectives on current economic issues because they have established themselves as a credible and reliable source.
KCEP's work has become so critical and robust that they will transition to become a standalone affiliate of the Mountain Association in 2020. As an affiliate, we will continue to provide back office support for KCEP, including payroll services, human resources, and other administrative needs, but KCEP will have their own board of directors and function more as an independent nonprofit.
Because KCEP's work focuses on the entire state, we identified increasing our policy capacity to address issues specific to Eastern Kentucky in our 2021-2025 Strategic Plan. We simply cannot achieve our goals and reach our vision in an equitable, inclusive and effective way unless supportive policy is in place. Inclusive policy can take many forms including solar net metering bills that will make it easier for small business owners and nonprofits to save energy; initiatives for affordable broadband in every home and business; ensuring access to Medicaid is not impeded so people with low income or living in poverty can afford to go to the doctor or buy prescription medicine; and federal legislation that will make sure former coal miners who suffer from black lung never lose access to life-sustaining benefits. We plan to conduct research with the help of our affiliates and partners, and use strategic communications to inform Eastern Kentuckians and leaders. For more information on our policy work, please visit our publications page.