Because of budget and healthcare cuts in recent years, many rural hospitals have had to close, or merge into larger hospital systems to stay viable. For others, being innovative in operations (think, solar-powered) and services has allowed them to keep providing excellent patient care, even in the face of increased cost of operations and declining populations.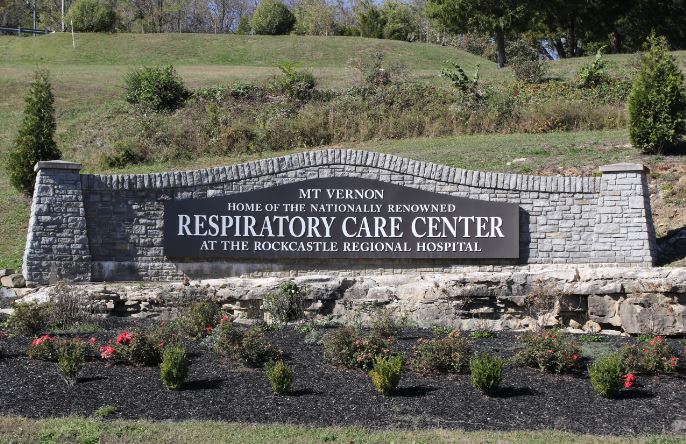 Rockcastle Regional Hospital & Respiratory Care Center is one of the best examples of this. Established in 1956, they first recognized a need for long-term care for ventilator-dependent patients in the 1980s and decided to establish this as one of their specialties.
Today, patients from more than 26 states have traveled to Mount Vernon to receive this care and they are one of the only locations in Kentucky offering these services.
They have expanded the Respiratory Care Center to now accommodate 143 residents at any given time. At the same time, they've made major technology updates to improve quality of life for their long-term residents.
Community Relations Director Jana Bray said many patients come to Rockcastle Regional when they are babies, and stay for the rest of their lives, while other patients may stay until they can wean from the ventilator. Their current rate of weaning patients is 40 percent, the highest in the nation.
Many times, when a patient is placed on a ventilator, they lose the ability to communicate as air no longer reaches the vocal cords. Rockcastle Regional staff works with patients to guide them through the use of a speaking valve, and for those whose illness may not allow them to speak through the valve, they guide them through the use of a device called a Tobii.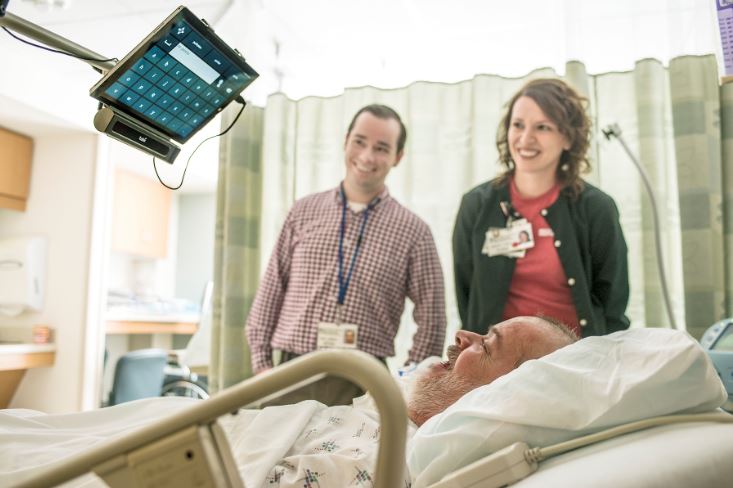 The Tobii allows residents to use their eyes to focus on a digital keyboard. Near-infrared illumination reflects patterns on resident's cornea and pupil, and image sensors capture images of their eyes. Looking at a letter for less than a second causes that letter to appear as text, allowing residents to "type" messages with their eyes.
One resident who suffers from Amyotrophic Lateral Sclerosis (ALS) reported that being able to communicate has given him new hope and optimism. He said the Tobii gives him access to social media, which helps him stay socially connected.
In addition, many of the patients have rooms equipped with Google Home devices so they can access information and music using voice control. Proven to be a mood stimulator, music also increases language exposure for those dealing with speech/language challenges.
Further looking for ways to innovate, in 2011, they became the first hospital in the state to use solar as a major source of their energy.
More than 200 solar modules were installed on the roof of the hospital's Outpatient Services Center, generating more than 60.9 Kilowatts total. The solar panels essentially power the energy use of the third floor of the Outpatient Services Center.
Rockcastle Regional is the county's largest employer with more than 800 employees, and they continually seek to serve the larger community. In addition to their award-winning acute and outpatient care, they have a robust outreach program focused on preventing illness. For the past several years, they have coordinated one run/walk event every month through their Countywide Stride series. They also regularly provide health screenings and education through various events, such as Ladies Night Out and more.
"Our community outreach programs have become an example for other healthcare organizations across the country to follow," said Bray. "Our programs continue to make real change for people in our county, and we plan to continue offering these resources for years to come."
Not only does Rockcastle Regional help drive the county economy by bringing in individuals from across the country for top-notch ventilator care, but they provide excellent services for local residents and focus on building a culture of health in the area. They are a model for rural hospitals across the country and their efforts are putting fresh air into Appalachia's New Day in Rockcastle County.
About: This is story #42 in the Appalachia's New Day campaign, a new storytelling effort launched in June 2019 by MACED for Eastern Kentucky communities. We can work with you to help identify, shape and amplify stories about businesses, programs and initiatives in your community that are helping build a new economy. Read more stories here. Contact us or sign up here if you would like more details.