The Mountain Association cares deeply about how the current health crisis of the coronavirus is affecting businesses, organizations and communities in our region. There are many resources out there to help your business or community through this time. This is our list of valuable resources we have come across.
Please note: This list was originally published on March 19, 2020 and will be periodically updated. For more frequent updates, please follow us on Facebook, Instagram or Twitter.
Grant Funding:
Rural LISC grants – rural businesses are eligible for the next round of Small Biz Recovery grants. Applications opened again in January 2021 here.
Nav – Grants of $10,000 for businesses. Apply by March 9.
Southern Black Women and Girl's Consortium – Funds Black girls and Black girl-serving organizations in southern states, including Kentucky. Applications from individuals, coalitions, and organizations, encouraged. Information here.
Southeast Kentucky Downtown Business Stimulus Fund – Eligible businesses can apply for up to $3,000 in grant funds here. Currently closed.
Small Business Grants from Facebook – Facebook is offering $100M in cash grants and ad credits for up to 30,000 eligible small businesses in over 30 countries. Currently closed.
Save Small Business Fund –  U.S. Chamber of Commerce Foundation is offering $5,000 grants for businesses who employee at least 3 people in economically vulnerable communities. Currently closed.
Salesforce Cares Grants – Eligible businesses can apply for $10,000 grants. Details here. Currently closed.
Red Backpack Fund – 1,000 grants of $5,000 each to female entrepreneurs in the U.S. Eligible applicants include majority women-owned and led businesses and nonprofits with annual revenues less than $5M, at least one additional paid employee, and fewer than 50 individuals on staff. Details here. Currently closed.
Small Businesses: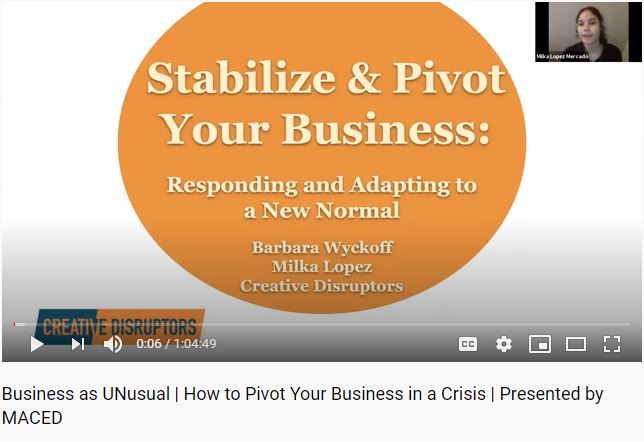 Artists:
Listing of emergency funding for artists
List of resources for freelance artists, such as actors, designers, producers, technicians, stage managers, musicians, composers, choreographers, visual artists, filmmakers, craft artists, teaching artists, dancers, writers & playwrights, photographers, etc.
Farmers:
Non-profits and other organizations:
Policy Tracker:
Kentucky Center for Economic Policy, a project of the Mountain Association, has a COVID-19 policy tracker to help you understand impacts of legislation that has passed or is pending
Communities and overall wellbeing: