Susan Watson, co-owner of a quilt shop called That's Sew You in Stanton, Kentucky, has been sewing for more than 46 years.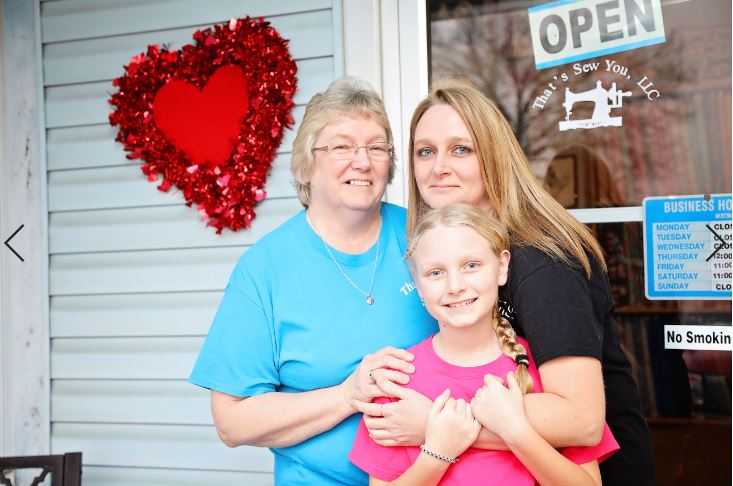 Susan's father, who was a self-proclaimed tailor, bought her first sewing machine when she was 12 years old. Though she began sewing then, she said she was so busy raising her three children and working, that she didn't get into quilting until about 10 years ago. Susan's dear friend, Vina Morton, began leading a group of ladies from her church to create quilts for the local nursing home. Susan got involved and was hooked; she hasn't look back since.
A few years ago, she and her daughter, Rachel, were discussing how much they hated having to drive to Lexington anytime they wanted fabric. Rachel said, "we should just open our own shop and we could call it That's Sew You." What started as a joke quickly turned into a reality. Rachel's daughter, Lily, who is now 10 years old, was a fan of this idea.
"She said, 'We gotta do that! I want to teach classes too,'" Susan said of her granddaughter.
In May 2017, they opened the doors to "That's Sew You Quilt Shop" on Main Street in Stanton.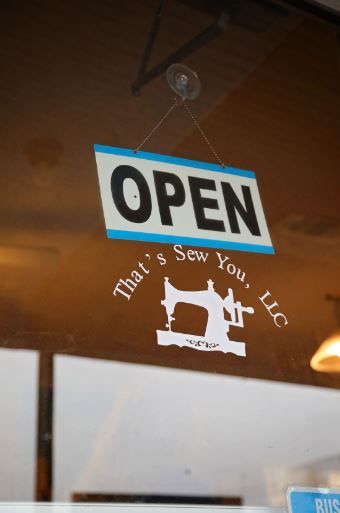 They sell retail products for quilting, and their long arm quilting services to quilt for others. They go above and beyond this to teach sewing classes, and plan special events.
Lily, with her grandmother's help, has since taught a couple of classes to kids. Susan said she loves to help at the shop and really enjoys making things. In fact, when Lily came along with Rachel and Susan to a business sharing seminar in Berea supported by the Mountain Association, she proudly sold one of her pillows to the Mayor of Berea.
Stanton, Kentucky, is home to the Red River Gorge, a world renown rock climbing haven and beautiful natural areas. That's Sew You brings even more colorful flavor and hospitality, adding to everything the area has to offer.
For example, each spring they plan an Annual Quilt retreat featuring quilting experts and special patterns. During their 1st Annual Quilt Retreat in 2019, 17 people attended the retreat which featured an instructor from Chillicothe, Missouri. She was well known for having taught an infamous quilter, Jenny Doan, her first quilting class. Jenny Doan is of the Missouri Star Quilt Company, one of the largest quilting companies in the country.
Two of the 17 people came in from out-of-state – one from Vermont and one from West Virginia – after having found out about the event through the That's Sew You Facebook page.
Susan teaches full time at the Powell County High School, and Rachel works for the Department of Military Affairs and is finishing a Master's degree in Organizational Leadership. Susan said they could not do the business without the help of their special friends, Sue, Bea, and Vina, who volunteer at the shop, opening the store on Thursdays and Fridays. Susan runs the shop on Saturdays, while Rachel does most of the bookkeeping.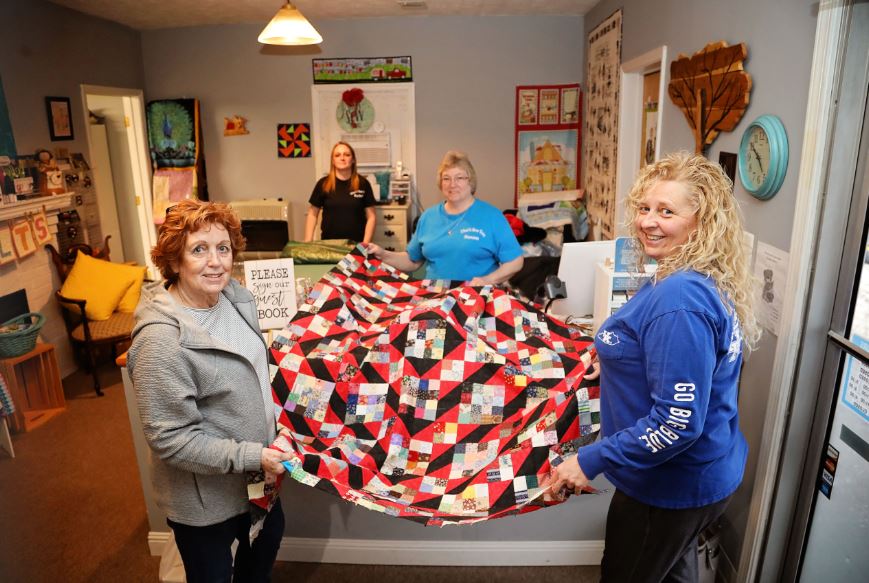 The Mountain Association is proud to have provided affordable financing for Susan, Rachel and Lily to realize their vision for That's Sew You. Our business support program also connected them with a consultant to set up a more efficient system for accounting, and they went through our Kauffman FastTrac business course.
For more information on That's Sew You or to join their quilting community, please visit their Facebook page.