Katie Startzman is the founder of Native Bagel Company in Berea, Kentucky. The small bagel and coffee shop was made a reality in 2017 with the help of MACED's Crowdmatch Loan Program. Additionally, Katie has taken advantage of MACED's business advisory services to help strengthen her business acumen. With MACED's support, Katie recently attended the Asheville Bread Festival. Here, she shares why the experience mattered to her: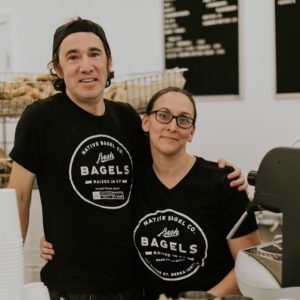 As a self-taught baker and food entrepreneur, my husband, Michael, and I were so excited to have the chance to attend the Asheville Bread Festival this past May with MACED's help.
The Asheville Bread Festival is one of the largest baking gatherings in the nation, and we are fortunate to live just four hours away. As new bagel shop owners in a small town, we mostly have to rely on the internet and social media for professional friendships, learning and networking. We love the local peers we have in Berea, but it is helpful to learn from those who are doing similar work outside of our community.
We were able to actually meet some of the bakers and authors who have been our "virtual mentors" from the beginning of our business. Since the event, we have already been in touch with several of them to share notes, ideas and challenges, which is very rewarding.
A few of the instructors were professors at respected culinary schools, and a few were fellow business owners. Two of the classes were held in professional kitchens, so we really enjoyed seeing those spaces and how the work flow was organized. These experiences will be very beneficial as we look to expand our business.
We also took a few classes at the Bread Festival that deepened our understanding of sourdough, local grains, the local food supply chain, and the historical context of the work we do. We learned new techniques and recipes that will allow us to broaden our menu and work with more local grains.
We want our bagels to be sourced as carefully as possible. To help achieve this goal, we met with the folks from Lindley Mills, who are the closest millers of the organic high-gluten flour we would like to use. Our non-organic conventional flour currently comes from GFS, which is a huge commodity-driven restaurant supplier similar to Sysco. Having the time to meet these millers in person and talk about their products was awesome. I am following up with them, and may even bring their flour to Kentucky for others to purchase.
The event was also challenging because the attendees were all such skilled, dedicated craftspeople. We are re-committed to our work and the excellent food we make. I encourage other entrepreneurs to take the time to leave town if they get a chance and travel. It's great to come back to our business with renewed vision, energy and commitment to making excellent food every day.