An article by Public News Service featuring Mountain Association energy expert Carrie Ray.
Eastern Kentucky's largest utility, Kentucky Power, wants to raise its residential and commercial rates. The state's Public Service Commission is slated to hear the case
on November 28th, and if approved, changes would likely go into effect next year.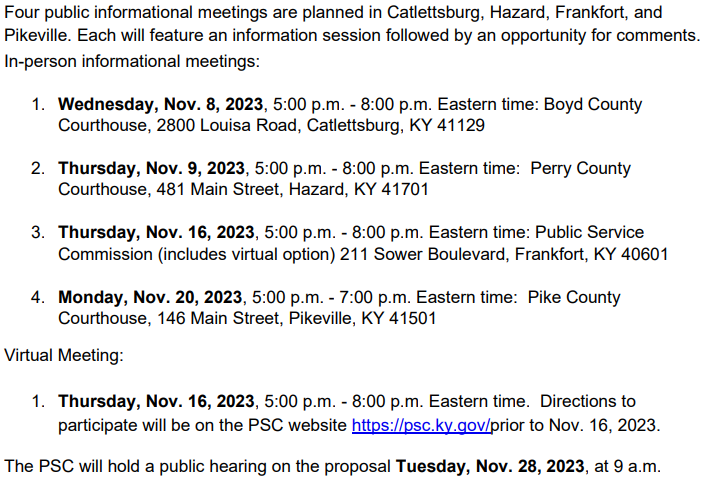 Carrie Ray, director of energy programs with the Mountain Association explains that residential customers could see a 20% percent rate increase, and a 14% base-fee increase under the proposal. Ray says a review of the electric bills of just a portion of their clients showed that these businesses, nonprofits, city buildings, community centers and other institutions would shell out collectively an additional more than $413,000 dollars per year toward energy bills, adding that the region's economy is already struggling with high energy costs.
"The average small commercial bill went up 13.5%, and the average large commercial bill, which is your hospital, your grocery store, that bill went up 7.6%."
In a statement, Kentucky Power says a series of natural disasters in recent years, including 2022's historic flooding, the loss of several large commercial and industrial customers, and overall population decline are driving up rates.
Amethyst Muncy, law clerk with Appalachian Citizens Law Center argues that instead of raising rates, the utility should be investing in energy efficiency programs, and helping customers make wise decisions about how they want the future of their energy to look.
"The service region has the highest average residential bills in Kentucky," Muncy said. "And so there's really no good reason for them to continue to raise rates and continue to increase the bills that customers in Eastern Kentucky will have to pay. "
Ray added residents don't have to be energy experts to make their voices heard on how the rate increase would impact their family, business, or community. Public comments can be submitted at psc.ky.gov. [Or see public meeting info above.]
"One of the things that the PSC has specifically said is they want to know how their decisions are going to affect the ratepayers themselves," Ray said.
Last year, one in five American households struggled to pay for an energy bill, and that rate was 50% higher for households of color, according to a report by the Energy and Policy Institute and Center for Biological Diversity.