The Nature Conservancy (TNC) is protecting 253,000 acres of central Appalachian forests through the Cumberland Forest project. The Mountain Association is partnering with TNC on ways the project can support the communities in and around the acreage.
This article by Hayley Lynch of TNC highlights the beginning of this work with the City of Middlesboro: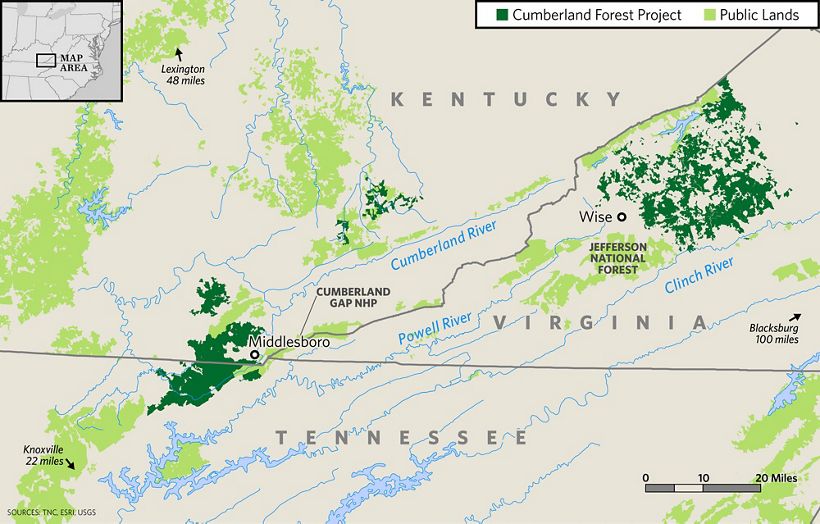 The mineral rights on the Cumberland Forest project are severed. While mineral extraction across the entire 253,000-acre property is relatively minor and declining, some ongoing work generates royalties for the landowner. Before we facilitated the Cumberland Forest acquisition in 2019, The Nature Conservancy determined those royalties would not benefit us or the project's investors but instead the local communities in Virginia, Tennessee, and Kentucky. As far as we know, the decision to forgo royalties and opt instead for direct reinvestment in the community is the first of its kind in the Appalachians.
To help us invest these funds wisely, TNC turned to the Mountain Association, a partner with tremendous experience and deep roots in Appalachian communities. One promising idea that emerged right away was helping underwrite community solar projects. These projects reduce greenhouse gas emissions and yearly energy costs, but a lack of upfront capital investments can represent a barrier. "We realized our community funds could make a real difference," said Heather Majors, director of external affairs for the Kentucky chapter.
After reviewing a number of potential projects, TNC and Mountain Association worked with Middlesboro Mayor Rick Nelson to select a rooftop solar installation on the Middlesboro Community Center. "The center is the only city-owned building large enough to host everything from a birthday party to a wedding," Nelson says. "The adjoining pool makes the site even more appealing to the community."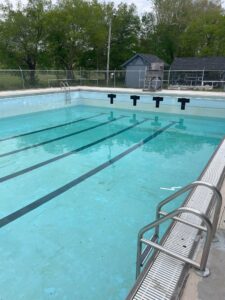 Majors says the project will save the city approximately $4,000 annually, enabling those funds to be reinvested into the community. "Another exciting part of this project is to see solar being used in a place long associated with coal mining," she says.
Mayor Nelson was especially excited about the project because the center is an important gathering space for the community. In addition to the pool, the center features a gymnasium, meeting rooms, and a kitchen.
"It is a great location for a clean energy project," says Josh Bills, a certified energy manager with Mountain Association. "There will be a display for people to see when they come in, with an image of the solar project and a monitor tracking electricity generation."
Bills says the solar project will do much more than just cut energy costs. Introducing solar into a community with few, if any solar installs, is the biggest goal, he says.
"Once people see how a solar project works, it is empowering," says Bills. "In our experience, this is a driver for more clean energy projects. People get to see it and witness the savings on their monthly bills. It can be a catalyst for similar projects."
These smaller projects, like putting rooftop solar on a home or a community building, are called distributed solar projects. Some argue that small solar projects don't make a big impact, but Bills suggests that changing a culture one electric bill at a time can indeed be important.
"Rooftop solar can make a lot of sense," says Bills. "It has a multiplying effect on supporting local economies. Big projects, such as large solar arrays on former mine lands, are important, too. Really we need projects at all scales."
– Hayley Lunch, Communications & Marketing Manager at TNC