As electric vehicles become more affordable, more of these vehicles are out on the roads – from standard cars, SUVs, and trucks, to rental cars, Amazon delivery trucks, and most recently, a school bus in Wolfe County, Kentucky. With the sticker price for some EVs expected to fall below comparable gas-powered cars as soon as this year, it's predicted that by 2030, 1 out of every 5 vehicles purchased in Kentucky will be electric. Kentucky is also becoming a cornerstone to the EV movement with $10.7 billion in economic development announcements related to EVs since 2020.
With any new technology comes uncertainty. In this short article, we'll explore what Mountain Association's team of energy experts see as the pros and cons of the EV movement, what it means in Eastern Kentucky, and what you should consider if you are a business or organization who wants to install a charging station to serve these customers.
Cost to Fuel EVs in Kentucky
This is the first question most people ask. In every state, yes, it is cheaper to fully charge an EV than it is for an equivalent amount of gas. In a state like Washington with high gas costs and low electric rates, it costs about $115 to fill a Ford F-150 pickup with gas if charged at home. To cover the same distance, an electric F-150 Lightning costs about $34 to fill—an $80 savings, if charged at home. However, in a state like Kentucky with average electric costs and average gas, the savings for the same truck would be less with an average $36 in savings for each fill up.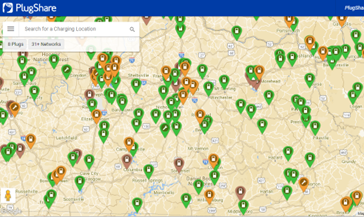 In general, most Americans driving the standard average 14,000 miles per year would save $700 for a car or SUV, and $1,000 for a pickup, according to Energy Innovation. The extent of your savings depends on the charger you are using, and sometimes, the time of day. Free chargers can be found in downtowns and businesses like hotels and grocery stores as they look to draw more customers. Pay-for-charge stations typically cost around 20 cents per kilowatt hour (kWh), almost double the rate paid for charging at home.
If you need to opt for a public fast charger, the price goes up. Fast chargers, known as Level 3, charge about 20 times faster but can cost around 30 to 48 cents per kWh. They can charge a battery to about 80 percent (the max you generally want to charge to on a road trip, for a few reasons) in as little as 20 minutes. In these cases, you would likely be paying equivalent to gas prices.
However, the average EV driver would be charging mostly at home and, for those calculations, it depends on where you are in the state because Kentucky's energy prices depend on who your utility provider is. Many utilities are now offering lower rates at certain times to incentivize you to charge your electric vehicle at night, which is off the peak demand time. For example, East Kentucky Power Cooperative was recently approved to start a program where customers can charge between 10pm and 6am at 2 cents less per kWh, as compared to the normal rate of between 8 to 10 cents per kWh for most co-ops. If you want to access this rate, you would give them permission to access your car's data via a privacy release (the majority of EVs on market have this feature for cloud sharing data).
Some states also charge an additional road tax for EV and even hybrid vehicles who don't buy their "fair" share of gas, which is taxed to contribute to road maintenance. In Kentucky, there is an $120 additional annual fee for EVs and a $60 additional annual fee for hybrid electric vehicles (and EV motorcycles). However, there is currently a $7,500 tax credit from the Inflation Reduction Act if you purchase a new eligible EV in any year from 2023 to 2032 and as much as $4,000 tax credit for purchasing a used eligible EV.
Finding a Charging Station (that works)
For every 1,000 miles of US roads, there are only 22 charging stations as compared to 104 gas stations. Though the EV infrastructure across the US is expanding every day, thanks to groups like Evolve KY, this makes planning a longer road trip more challenging.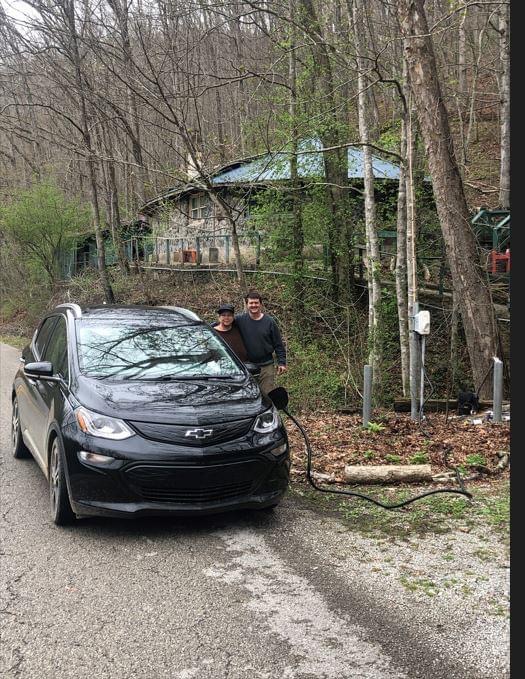 Most EV users use their car's locator system or apps like PlugShare to find free options. However, there is an unfortunate issue that many run into with charging stations not being maintained appropriately, causing issues with charging speed or not working at all. In a part of the state like Eastern Kentucky, which has fewer stations, it creates a big inconvenience to the traveler even if just one charger is down.
Some EV owners say they like the need to plan some downtime in their travel for charging and that it gives them a chance to explore local areas and shops near the charging ports, but we're sure that all EV owners hate it when a charger they are relying on does not work.
Pair Your Charging Station with Solar for Better Savings and Less Environmental Impact
If you already have solar, or are considering solar, many solar installation companies are offering charging port upgrades. For example, Appalachia-Science in the Public Interest, a nonprofit in Rockcastle County, recently upgraded their solar panels to include a charging port where they can now charge their organization's Chevy Bolt. This has saved the organization money and also lessened their environmental impact.
Though EVs are cleaner in terms of carbon emissions (and getting cleaner every year), as compared to traditional gas-powered vehicles, in a state like Kentucky where 70% of its grid is powered by fossil fuels, your personal emissions impact will still be high unless you couple your charging station with renewable energy.
With solar becoming more affordable, coupled with overzealous solar sales representatives, we are seeing occasional rooftop solar installs that are generating more than the facility or home is using. If you are in this position, it is a great opportunity to consider an EV to soak up the credits banked with your utility. 
Some EVs Can Provide Power During Outages
Some EVs, like the Nissan Leaf and the Ford F-150 Lightning, have what are called bidirectional or two-way charging. This means these EVs can provide a backup power source in case of emergency, powering not only your phone or medical devices, but even your whole home. Ford has even marketed this aspect of their truck with this line: "What if the next time your power went out, your pickup truck could electrify your home." In most cases, you will need an additional inverter installed in your home to make powering things like your lights and refrigerator possible.
To learn more about bidirectional charging, which is still evolving, please check out this resource from the Clean Energy Group.
Installing a Charging Station at your Business/Organization
Adding a charging station at your business, local government or nonprofit is an increasingly popular way to draw more people in, but there are a few considerations. In most commercial cases, you will want to have another meter installed so that you avoid adding to your demand charges on your existing bill, or being moved to a more expensive rate class.
Charging stations in rural areas that are tied with solar or other renewable energy systems are eligible for grants through the USDA Rural Energy for America Program (REAP), which can cover up to 50 percent of the project costs. Mountain Association's energy team can help you apply for this grant coverage. There is also a 30% tax credit for EV charging stations. We are also happy to help you explore options for financing remaining costs of a station either through our lending program or other affordable options.
Additionally, Evolve KY is a fellow nonprofit that is always looking for additional places throughout the state that would be assets for EV drivers.
---
Please get in touch with the Mountain Association's energy team if you are interested in exploring charging stations for your workplace. Contact Carrie Ray, Director of Energy Programs, at carrie@mtassociation.org or (859) 544-0023.