A thriving grocery store is central to having a community where residents want to live, work and play. However, with an average net profit of 2.2%, grocery stores are in the top 12 least profitable industries in the United States. These stores have to be careful about each dollar spent.
Tight margins are one of the reasons why many rural places have seen full service stores struggle to keep their doors open, especially in face of declining populations, online shopping, and more. According to a recent article by Ohio Valley Resource, one Eastern Kentucky store went from doing $200,000 in sales per week to $75,000 due to population loss in the face of the coal industry's decline.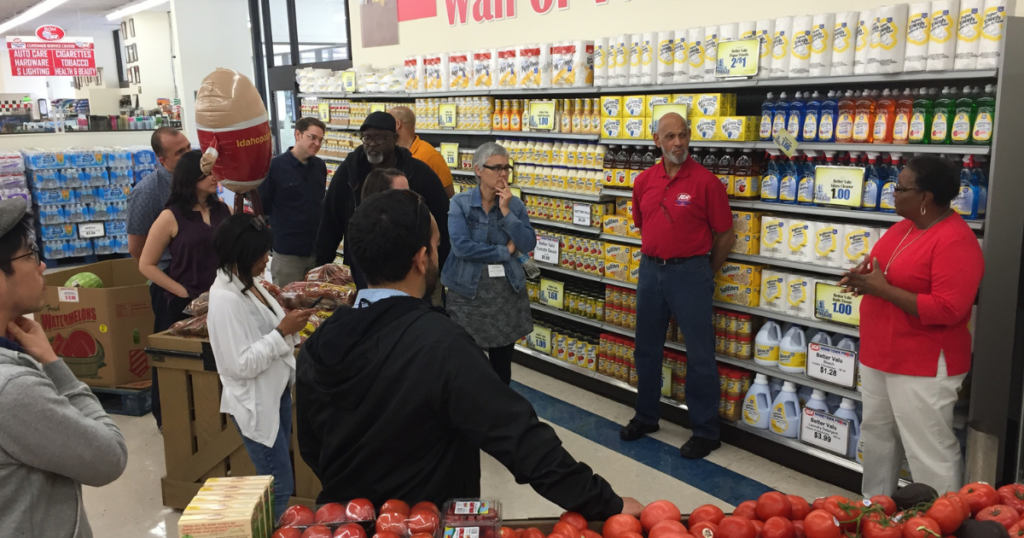 High utility bills are increasingly becoming more of a burden to these tight margins. Over the last decade, we have worked with over a dozen groceries across Eastern Kentucky to cut utility costs through energy efficiency upgrades and renewable energy systems.
For the past several years, we have worked closely with Gwen Christon, who owns a grocery store in Isom, Kentucky. Isom IGA is at a key crossroads in Letcher County where the next nearest grocery store is ten miles away – a long distance for many residents who do not have reliable transportation or public transit options. Several years ago, we facilitated a major investment by Christon in energy efficiency. The upgrade was financed with a $100,000 USDA Rural Energy for America Program (REAP) grant and financing from the Mountain Association. Those upgrades have since saved her an average of $40,000 each year in utility costs.
The energy savings more than covered the financing and Christon has now used the savings to hire two more full time employees. Christon said her store is now brighter and more welcoming, and she received many compliments from her customers with sales up seven percent since the change. The savings have helped her cut some of her prices which has also contributed to the increased sales.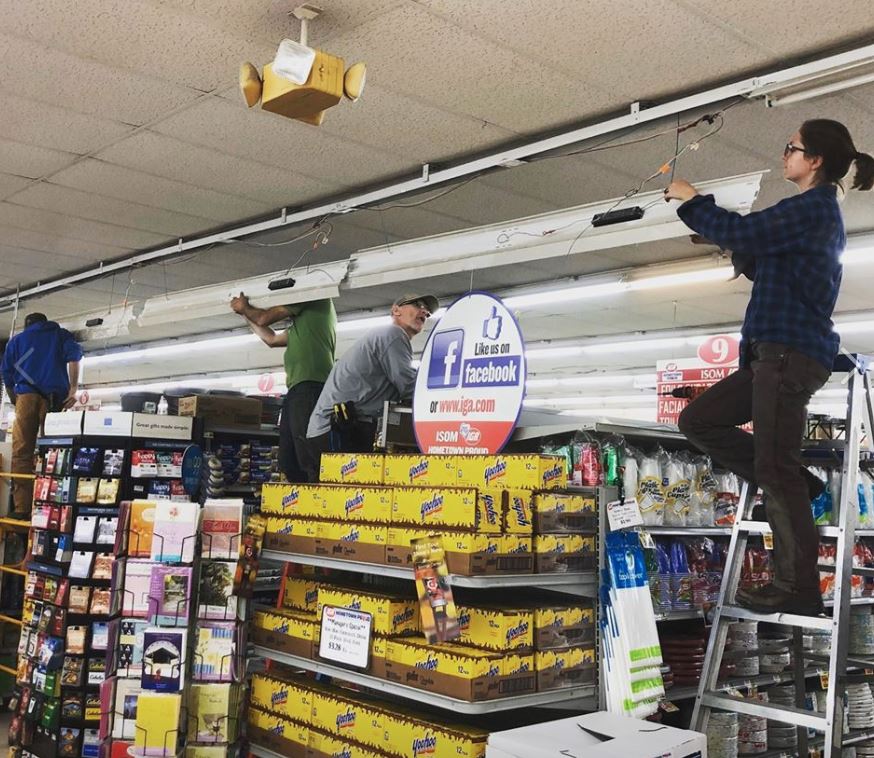 In November 2019, Christon again made energy efficiency upgrades based on our recommendations. The new LED lighting is expected to save them an additional $7,000 per year. The Mountain Association is helping facilitate a solar installation on the store's roof in 2020.
In Magoffin County, we recently worked with Salyersville IGA, a full service grocery store, to finance their move into an updated and expanded store that is double the size of the previous location. Cox Foods, based in Hindman, owns this store along with nine others throughout Eastern Kentucky. Along with the expansion, the store completed major upgrades to switch to more energy efficient deli equipment and heating and cooling systems. They have brought in a greater diversity of products for the community, especially produce variety, and foods for specialty diets. The produce section is nearly six times bigger– their bagged salad section alone went from 6 feet to 12 feet.
With the expansion and updates to better serve their customers, they added approximately 20 jobs to Salyersville.
Isom IGA and Salyersville IGA are just two examples of success in helping rural groceries find savings in order to invest in their stores and their communities. In the past decade, we have also worked with the following stores:
Jackson IGA (Breathitt County) – saving $20,000/year through lighting, refrigeration & waste heat recovery upgrades.
Jack's IGA (Lee County) – saving $10,000/year through lighting upgrades
Happy IGA (Perry/Knott County) – saving $1,000/year through lighting upgrades
Martin Food World (Floyd County) – saving $5,500/year through lighting
Manchester IGA (Clay County) – saving $137,750/year through lighting, refrigeration & heat recovery upgrades
Long's PicPac Galaxy Market (Bell County) – saving $23,500/year through lighting, refrigeration & heat recovery upgrades
Warfield Shoprite (Martin County) – saving $13,800 through refrigeration upgrades
Don's SuperSaver (Harlan County) – saving $45,000/year through refrigeration upgrades
Hyden Grocery (Leslie County) – saving $2,000/year through lighting upgrades
Justice Quality Foods (Pike County)
Neon Food World (Letcher County)
We also worked with Laurel Grocery, a warehouse in Laurel County, who invested over$125,000 in upgrades including warehouse LED lighting. These upgrades saved $54,600 in first year with the upgrade completely paying for itself in 2.3 years.
Kentucky currently ranks sixth in the nation for food insecurity, and in the Appalachian region of Kentucky, more than 20% of the population regularly experiences hunger. Keeping our rural grocery stores operating is essential for addressing food security. We encourage all store owners to reach out to us to discuss free or low cost on-site energy assessments. We can provide affordable financing to eligible stores to cover the cost of the upgrades, if needed. We believe financing shouldn't be a barrier for store owners to take on energy efficiency projects that will reduce the store's energy use.
Please contact us if you would like to discuss energy options for your store.