Kentucky's Red River Gorge is world renown for its natural beauty, as well as its abundance of rock climbing, hiking and other adventure opportunities.
One company, aptly named Red River Gorgeous, offers plenty of lodging options for any type of adventurer with 23 cabins, small apartments, and even treehouses, available for vacation and getaway stays.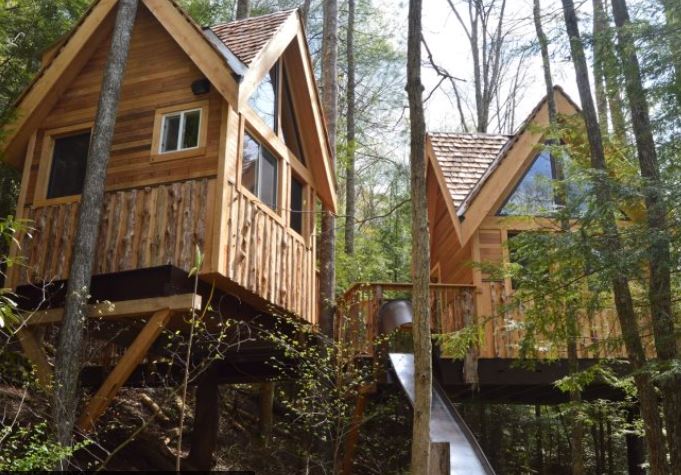 Each of the 23 options is very unique. Some are available via easy road access; some have full amenities (think: hot tub), while others you have to hike to, or climb into. All are on privately owned land inside the Daniel Boone National Forest, or near the Natural Bridge State Park.
Red River Gorgeous, owned by Aaron and Amy Dourson, was started in 1994 when the family, with the help of many others, built four small log cabins along Nada Tunnel Road in the heart of the gorge. Then, in 2008, Red River Gorgeous tried something new when they built the "Backcountry Shelter" – pioneering the off-grid rental option for the gorge. They have since become known for these unique experience off-grid, and into the canopy, experiences.
The Doursons are committed to doing their part to protect the Gorge area. Amy is a founding member of the community-based planning organization Red River Gorge United, as well as an advisory board member at the Red Forest Oak School.
"One of the most important purposes of our cabin and treehouse rental business is to foster a full-blown nature immersion for our guests," Amy said. "We want them to be in nature; not just adjacent to it, for this is where the real love and connection happen. From here, it is our hope that an individual will end their stay with us feeling less individual and, instead, more deeply connected, concerned and aware of the previously-wild state of the planet and of its need for us as a human species to dramatically change our relationship with it."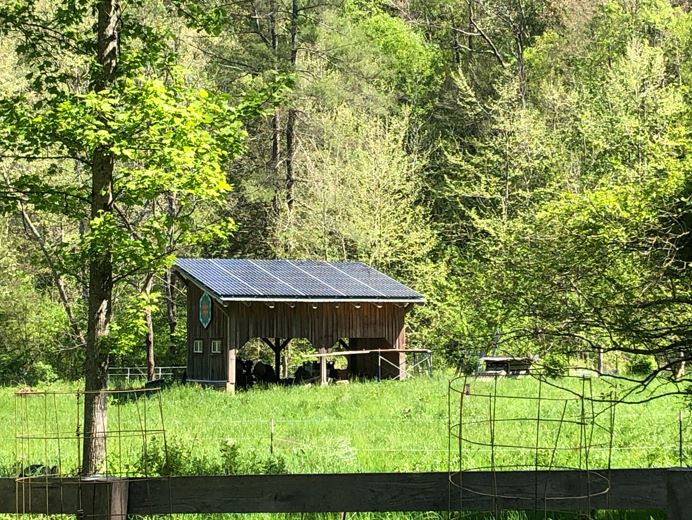 They also want to do their part to slow climate change and have committed to a number of carbon emission reduction goals. Already having implemented a few solar panels on their individual cabins and treehouses, as well as a number of other sustainability initiatives – from line-drying linens to using reclaimed wood in their construction – adding even more solar made sense.
In 2019, Aaron reached out to the Mountain Association for help in adding solar power to one of their grid-connected cabins, the Huckleberry Farmhouse, to reduce its consumption of locally carbon intensive grid electricity. Our energy team visited to conduct an on-site solar assessment to determine if the project made sense for that cabin's location. After determining they could expect a savings of $1,400 per year, the Doursons decided to move forward with the project.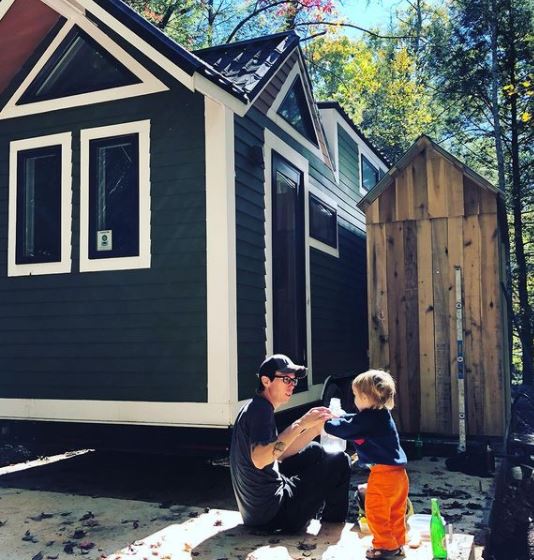 We assisted them with a successful application to the USDA's Rural Energy for America Program (REAP) grant for nearly $6,000 in funding, and provided financing for the remaining balance. This first solar installation was completed in March 2020 with the help of one of our former New Energy Interns, Ben Tatum, who now owns his own energy business called Appalachian Energyworks. Ben worked under the direction of Bogie Electric LLC, a solar installation company with 25 years of experience. As of August 2021 the cabin generated more energy than consumed for several months and has racked up 2,000+ kWh in credits to offset future bills!
In 2021, we also worked together to assist the Doursons in applying for a Paycheck Protection Program (PPP) loan. Many tourism businesses were affected by the COVID-19 pandemic as people are staying home and traveling less.
We are proud to help businesses like Red River Gorgeous save money on energy bills, reduce carbon emissions, and build resilience in the face of climate change.
For more information on Red River Gorgeous, please visit their website. Their office is located one mile from the Nada Tunnel in Stanton. They ask that you please call (606) 663-9824 with questions or email rrgcabin@redrivergorge.com. Their website provides a local area guide. Be aware, that their treehouses are booked several months in advance!