Every year, the Kentucky Small Business Development Center administers the state's small business awards, awarding the small business of the year, young entrepreneur of the year, and more.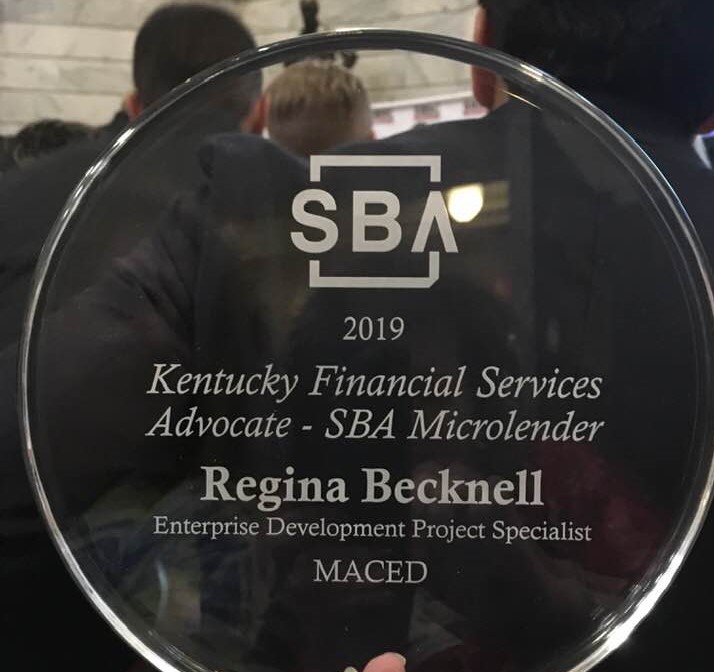 This year, we are proud that Regina Becknell of our Paintsville office was awarded the 2019 Small Business Administration Microlender Financial Services Advocate of the Year!
This summer will mark 15 years since Regina joined MACED's staff. She is a project specialist who works with local entrepreneurs to discuss their business ideas and see them through the lending process if it is right for them. Starting a business can be intimidating, and Regina finds ways to make it more approachable. Many clients who work with Regina appreciate her one-on-one attention and have found her tips instrumental to their success!
American Metal Works, one of MACED's clients who works with Regina, was also recognized as a 2019 Pacesetter.
Founded in September 2016 by James Glass and Denny Rohrer, they manufacturer aerospace, automotive, biomedical, defense and other manufacturing materials. Located in Paintsville on the Mayo campus of Big Sandy Community and Technical College, together, their staff has more than 75 years' experience in the oil, natural gas, and mining industries. James and Denny started the business to help transition those displaced from the coal and natural gas industries into advanced manufacturing employment opportunities. Check out this shiny new video on their business!
Regina started at MACED in July 2004. A graduate of Berea College, she recently served as the president of the Floyd County Chamber of Commerce in Prestonsburg, and worked part-time for the Morehead State University Small Business Development Center. She has years of experience in fundraising, marketing, finance, design, leadership initiatives, economic development and technical assistance to businesses. Regina has also served as board member for the Kentucky Chamber of Commerce Executives, and has been a member of the Kentucky Industrial Development Council and Prestonsburg Rotarian. Contact Regina at rbecknell@mtassociation.org or 606-264-5910.