"It was a blessed event to be a part of," reads a survey from one of 77 people who attended Wayland's Community Gathering on March 24, 2023.
---
Wayland is an old coal camp that sits along Route 7 in South Floyd County, Kentucky. Though flooding has impacted Wayland for decades, recent increases in frequency and devastation have left the town wondering how they can keep moving forward. About a year and a half before last July's historic flooding, they had faced three 100-year floods within just one month.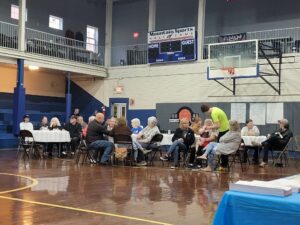 In July, countless flood veterans again saw their homes under water levels that they had never seen before. The town's Community Center and medical facility – the heart of business in Wayland – was rendered unusable due to the flood's effects on the foundation. Slowly, pieces have been coming together for residents and the town's infrastructure. After tireless efforts by Mayor Jerry Fultz to get the community building back up and running, it will open in the coming weeks. And a recent Community Gathering brought residents together to envision a plan for what still needs to take place.
With support from many local partners, including the Mountain Association, and guidance from consultant Ruthie Caldwell from Vision Granted, the town recruited two full-time Americorps VISTA volunteers, Uzi Uresti and Jessy Workman, to carry out the town's long-term vision to become a place where residents and visitors feel safe, healthy, welcome, and connected. These volunteers are invested in making Wayland a community that has access to good jobs, affordable housing, and recreational opportunities, and they're taking notes from Waylanders on how they want to see that done.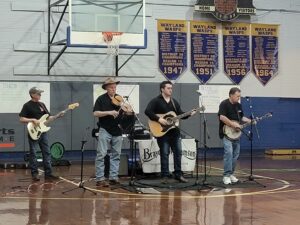 The VISTAs teamed up with several community partners to host the Community Gathering in Wayland with a goal to bring together a community drawn apart by time, the impact of Covid-19, and disaster, to discuss what makes their town special and shared ideas to drive development forward. The night of visioning, storytelling, and fellowship was supported by University of Kentucky's College of Agriculture, Food, and Environment, Floyd County Community Foundation, University of Kentucky Floyd County Cooperative Extension, St. Vincent Mission, and Christian Appalachian Project. The event featured live music performed by the traditional bluegrass band Brayden Williamson and Friends.
Neighbors joined each other in the same gym they played in together as kids that has become the place where they come when flood waters rise, and where they gather and send to aid their neighbors in disaster. Music filled the air as people filled their plates and settled in as the VISTAs introduced themselves and the facilitators. Then the folks of Wayland got to work, they told stories of moments that made them proud to be from Wayland, then broke off into groups and spent the night offering solutions to issues like quality of living, jobs, housing, tourism, and flooding.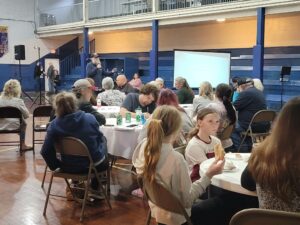 Fire fighters, musicians, war veterans, teachers, coal miners, life-long friends who have faced countless hardships together, and family came together to create a roadmap for the next generation. The night ended in hugs and gratitude as attendees who were impacted by the flood (75% of attendees had been flooded) left with gift cards provided by the Floyd County Community Foundation.
With a renewed sense of community, the VISTAs plan to use this feedback to move projects along that focus on flood mitigation and cleanup, revitalized downtown areas, new businesses and jobs for the community, and improved recreational opportunities. Many of the ideas shared by community members are already in the works. More than a dozen town members volunteered their skills and time to help with future projects in the town and many offered to host classes to share their skills with others.
Events like this can be simple and cost-effective to host in your own town to encourage fellowship and community engagement. VISTAs planned this event by taking fliers door to door, encouraging a potluck bring-a-dish meal, and gathering some pens and paper. If you have any questions regarding planning an event like this, please contact Jessy Workman at jessy@waylandhistorical.org.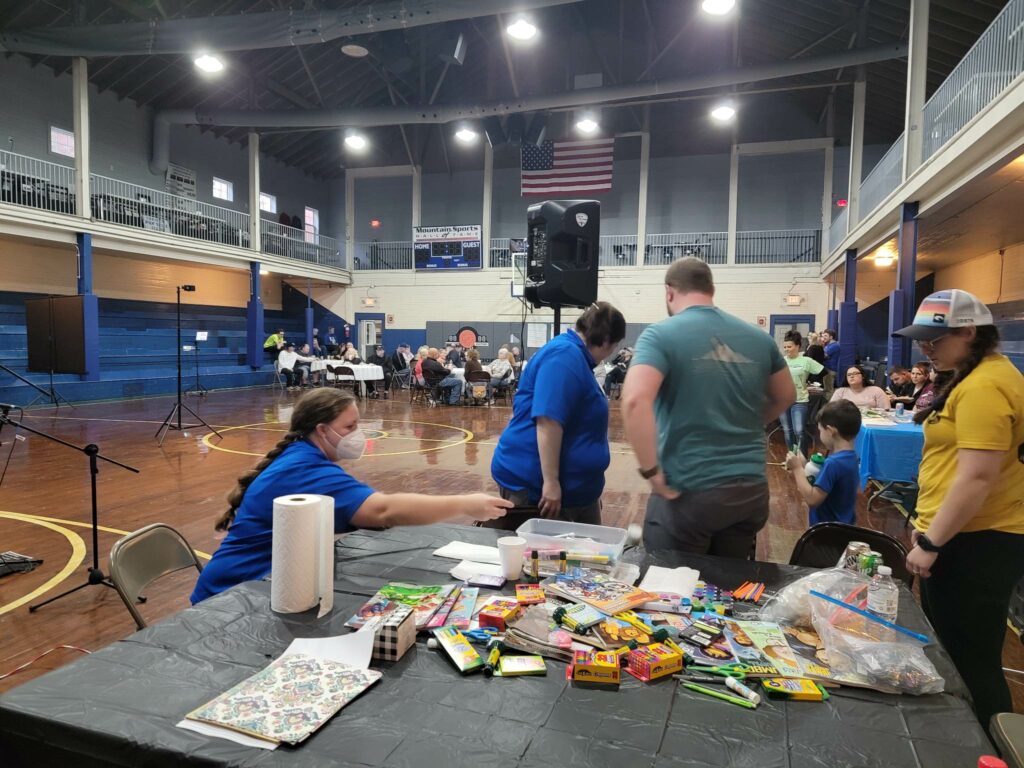 Please note: Wayland is still seeking a 3rd VISTA to join their team. The AmeriCorps VISTA program is a one-year, full-time paid position to help fight poverty by aiding local organizations in expanding their capacity to make change