Lacy Hale knew she wanted to be an artist since the age of five.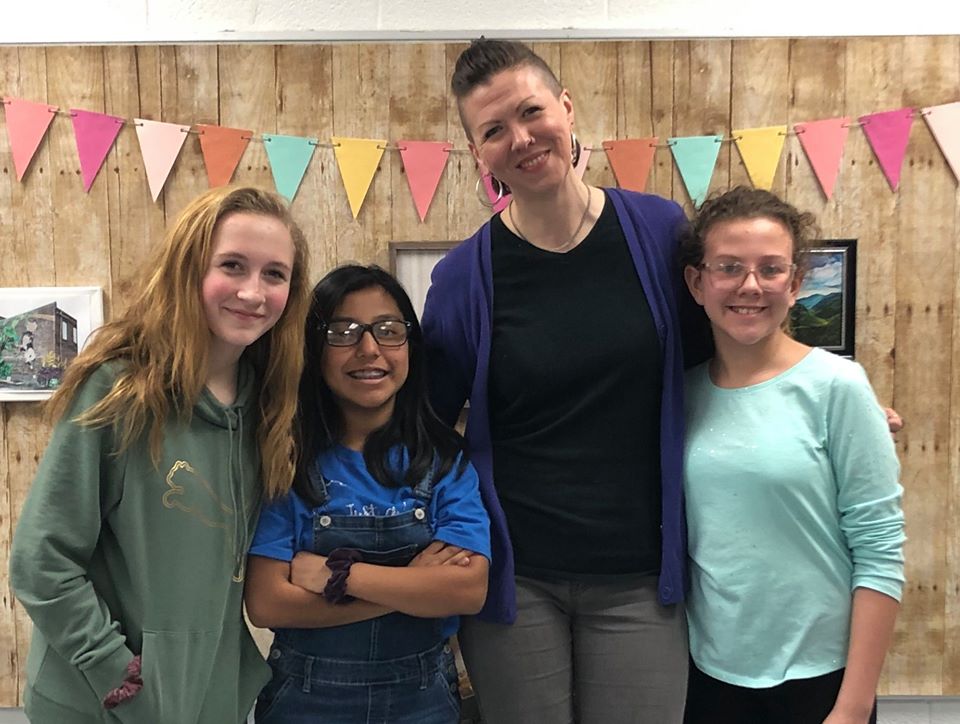 Today, among many other accolades, Lacy's work has been mentioned in Time Magazine and included in a traveling Smithsonian exhibit. She has shown work all over the state, including galleries in Morehead, Frankfort, Whitesburg, and Grayson.
Lacy lives and works in Whitesburg, in the far southeastern corner of Kentucky bordering Virginia. She says her artwork is rooted in her surroundings and focuses on capturing places and people often overlooked. Her pieces reflect moments she wants to treasure, along with some bit of sadness or beauty that she needs to share.
A fine artist, muralist and painter, Lacy offers paintings, murals, commissioned pieces, printmaking, screenprinting, and more.
In 2017, one of her linoleum block prints, titled No Hate In My Holler, went viral with popularity. When Neo Nazis announced that they were coming to Pikeville, Kentucky, a town about an hour from Whitesburg, Lacy developed the block print in response.
As the image, saying, and hashtag were shared, it began to resonate with people.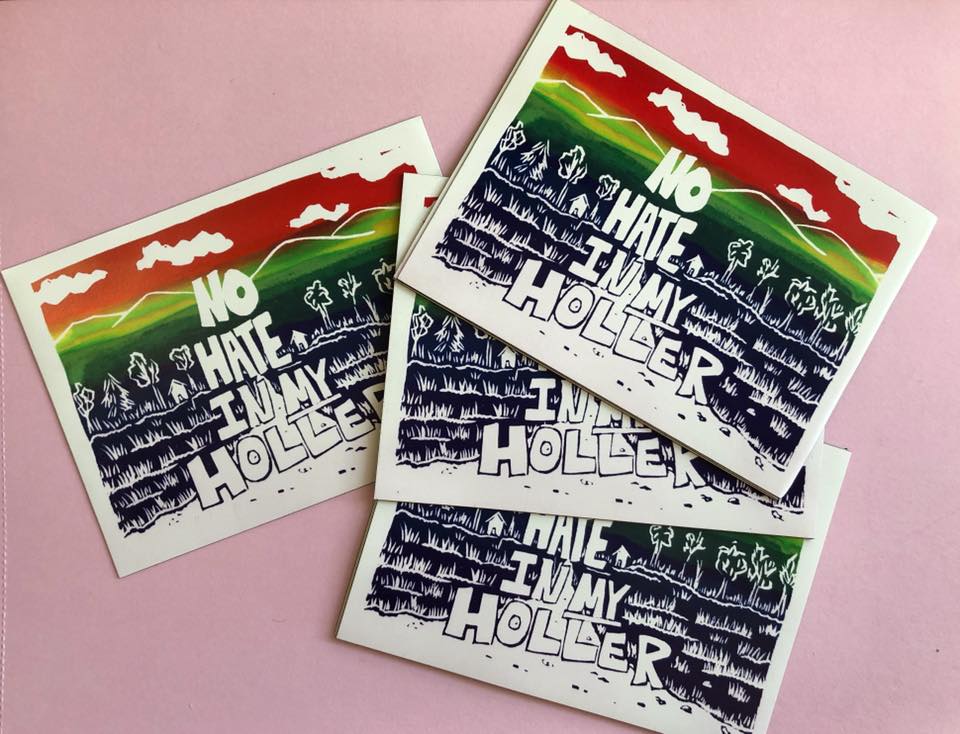 She started getting requests for merchandise featuring this phrase and image, so she began making t-shirts, kitchen towels, stickers, and more. The No Hate in My Holler line is now her best seller, with 25 percent of the profit going to local non-profits working toward equality in the region.
Lacy is also well known for several public murals in Kentucky cities including Lexington, Harlan, Jenkins and Hindman.
Recently, Lacy worked with Southeast Community and Technical College and Sassy Trash, a retail store in Harlan, Kentucky, to create a 700+ square foot community mural based on local flora and fauna. Because Harlan has the Poke Sallet Festival every year, they chose to feature poke weed. And because poke is spread through animals eating the berries, the mural includes a baby opossum reaching for some ripening berries.
Using a new technique Lacy learned at the Mountain Mural Mega Fest, she laid out a paint by number system so that the Harlan County High School students could paint the underpainting. After that, Lacy completed the overpainting. The mural was completed in July 2019, along with a blue skink and the state flower, golden rod, at the Second Annual Mountain Mural Mega Fest. (The possum, affectionately named Petunia, is also available in a sticker!)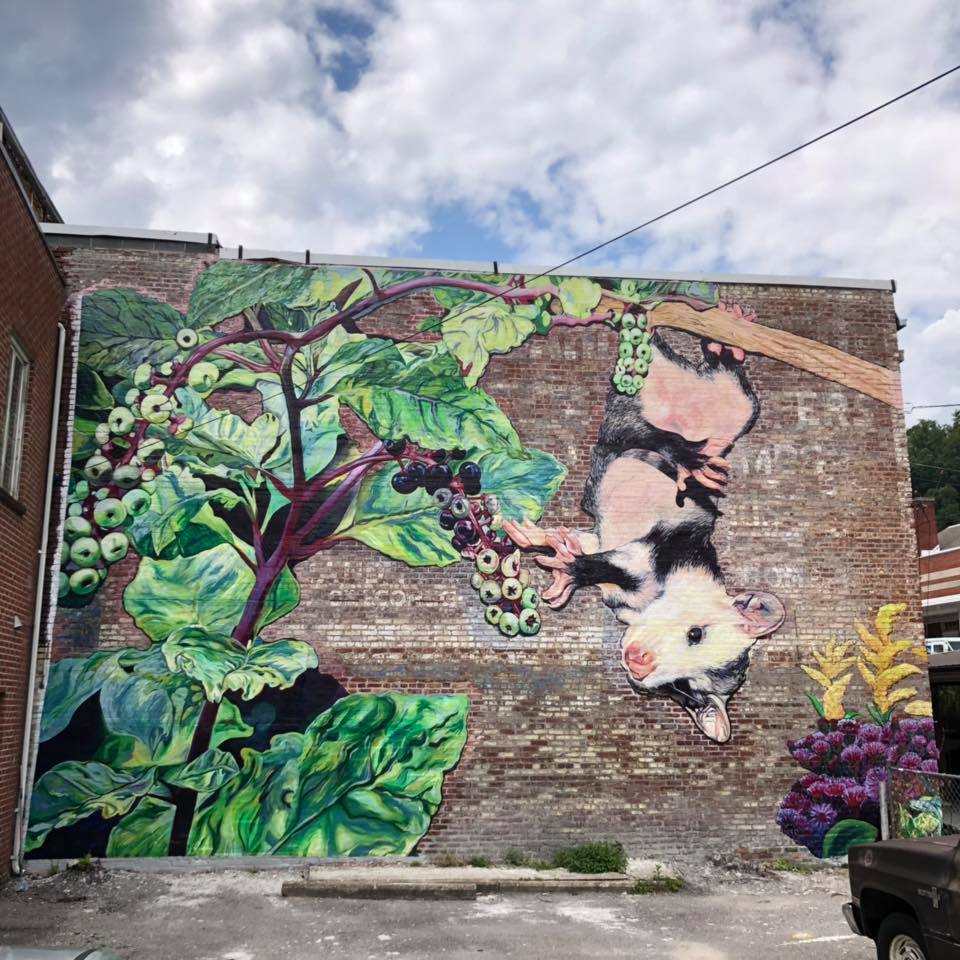 In 2020, Lacy is creating a new body of artwork with support from an Artist Enrichment grant from the Kentucky Foundation for Women.
The grant will be used to create a series of art works inspired by pieces of folklore that have been passed down through her family, culminating in the creation of a chapbook and exhibit. The project will help her develop her printmaking skills while preserving meaningful family traditions.
Lacy said she hopes the finished work will inspire dialogue about the importance of intergeneration memory and story-sharing among women, not only in her family but across the region.
Lacy sells her work on her website and at several locations in the region (in Whitesburg at Roundabout Music Company, in Prestonsburg at The Mountain Muse, in Hindman at the Appalachian Artisan Center, in Corbin at Moonbow, and in Roanoke, VA at Appalachian Revival), as well as Microcosm, an online site and store in Portland, Oregon.
We are proud to support Lacy with affordable business financing.