Last summer, the Mountain Association purchased a three-story building at 479 Main Street in downtown Hazard, Kentucky. We were inspired to purchase the building given the substantial downtown revitalization progress made in Hazard over the past decade.
The 11,000 square-foot building has anchored Main Street for decades, but has been unoccupied since First Federal Savings & Loan moved locations in 2016 after being in the building since 1960. Built at the corner of Lovern Street and Main in 1940, it is in need of major repair and overhaul for Perry County's current needs. We are planning a complete remodel of the building to develop spaces for business and residential use.
After completing necessary asbestos remediation and stabilization work over the past several months, we recently issued a request for proposals from architecture firms interested in designing the building's future. We are happy to announce we have officially selected Deco Architects, a firm based in Somerset, Kentucky, to guide the process.
Deco is the group behind the City of Somerset's recent $2 million remodel of the historic Virginia theater, as well as a number of other historic building remodels and innovative projects in Southeastern Kentucky in recent years. The restoration of The Virginia theater recently won the Kentucky History Award for excellency in its preservation and envisioning.
"Visiting downtown Somerset is like looking at DECO's resume. We saw several DECO projects very similar to what we hope to achieve with 479 Main. Mountain Association is excited to find the expertise we needed in the Appalachian region," Les Roll, Special Projects Manager at Mountain Association said. "I look forward to bringing their skill and experience together with our vision for the development of 479 Main."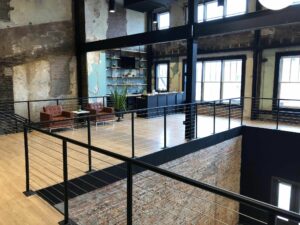 Their team recently visited Hazard to complete their initial measurements needed to make a model and begin the design process. We will soon work together to plan a community input session on what area residents would like to see in the space.
"We are humbled and honored to have been chosen to partner with the Mountain Association to revive the building at 479 Main and continue the revitalization of downtown Hazard," Derek Phillips, Architect at DECO said. "During our visits to Hazard thus far, we have been surprised and excited about the wealth of pedestrian activity downtown and the overall vibrancy of Main Street – it is readily apparent that the community has momentum and we are pleased to add to the positive trajectory."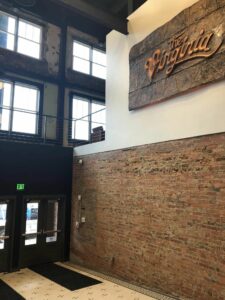 We will be sharing regular updates on building progress on our website, social media, and through community partners such as InVision Hazard and the City of Hazard. If you are interested in learning more, please contact Les Roll at les@mtassociation.org.