A rural town in Indiana made national headlines in 2015 when 235 individuals of the town's population of 4,100 were diagnosed with HIV. Since then, public health officials in rural areas have made strides in establishing more harm reduction programs, and have challenged their communities to move beyond prejudices to help those struggling with drug addiction.
Many Eastern Kentucky counties have a syringe exchange at their county health departments, but several counties are taking their support a step further.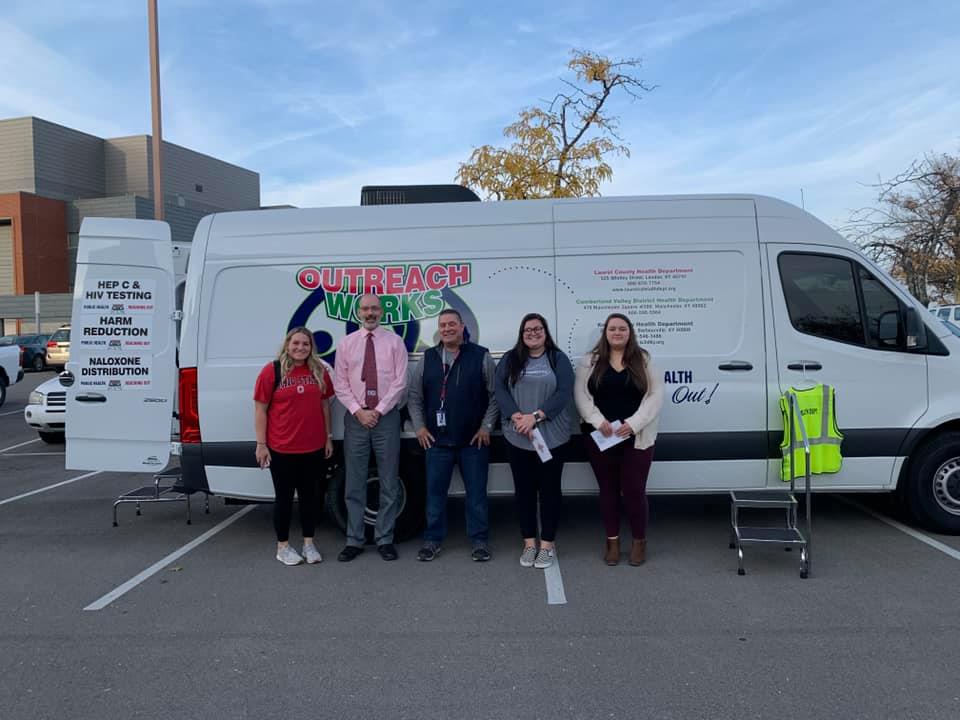 Knox, Laurel, Clay and Jackson Counties partnered in Spring 2019 to create a Mobile Harm Reduction Unit. Their counties are among the top 54 counties in the nation with an increased risk of Hepatitis C and HIV outbreaks due to intravenous drug use.
Though each of those counties already has their own needle exchange programs, they wanted to work together to remove other barriers that may prevent individuals from seeking services at health departments. For example, many individuals do not have reliable transportation, live in a very rural area, or may be intimidated by the building.
A grant from the Kentucky Department for Public Health allowed the group of health departments to purchase a van to create the Mobile Harm Reduction program. The "Outreach Works" van rotates between each county, spending one day in each location, making harm reduction and resources more accessible to those who cannot make it to the health department on their own.
Services available from the van include HIV testing, Hepatitis C testing, Hepatitis A vaccines, and training about overdose prevention. A peer counselor who can advise on addiction recovery is also available.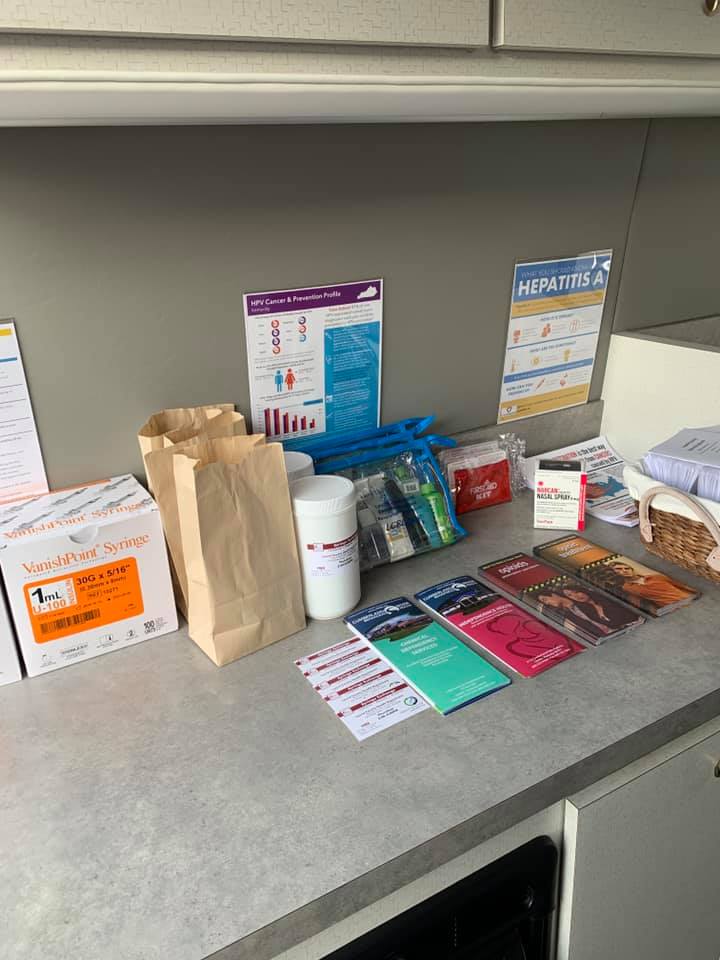 Sites where the Outreach Works van is available in Clay County include Sibert's Grocery in the Horse Creek community, which is five miles outside the county seat of Manchester; and, Jack's Creek United Methodist Church, where the congregation provides a hot lunch for visitors while the van is there.
In the most recent three months of data, from December 2019 to February 2020, Clay County alone counted 48 visits to the van, including three individuals with diabetes also in need of needle exchange services. While none of the visitors were HIV positive, 26 percent were Hepatitis C positive. They trained 16 individuals on overdose prevention, and distributed 24 units of Narcan, which reversed the effects of narcotic overdose in an emergency situation.
The van also visits schools for educational days, as well as other events in their communities. In October 2019, the Knox County Health Department set up at the Daniel Boone Festival to conduct HIV and Hepatitis C testing, and gave a total of 150 Hepatitis A and flu vaccinations in the process.
Mark Hensley, Public Health Director at Laurel County Health Department, said they hope to expand their outreach efforts. One goal is to pilot a site in the Annville area of Jackson County by April 2020.
The overdose rate in Kentucky is nearly twice as high as the national average, and, in the past decade, meth-related overdose deaths in the state have increased 20-fold. Those stats make Kentucky one of the hardest hit by the opioid crisis. Providing harm reduction services is an important touch point to offer individuals support with addiction recovery.
Recent research shows that those who use harm reduction services are five times as likely to enter into drug treatment than those who do not. Additionally, while treating someone with hepatitis or HIV costs several thousand dollars, preventative measures like harm reduction and vaccination are much less of a burden on the healthcare system.
Finding innovative ways to assist individuals combating addiction and help the community better understand it, all while trying to improve public health outcomes is essential in addressing some of our community's biggest barriers. Not only that, but these measures help to include more people in the better futures we hope to build in the future. These are all important aspects in the movement for Appalachia's New Day.
About: This is story #52 in the Appalachia's New Day campaign, a new storytelling effort launched in June 2019 by MACED for Eastern Kentucky communities. We can work with you to help identify, shape and amplify stories about businesses, programs and initiatives in your community that are helping build a new economy. Read more stories here. Contact us or sign up here if you would like more details.