Brandon Dennison, CEO of the Coalfield Development Corporation, was recently named the first Ashoka Fellow to live and work in Central Appalachia (nominated by MACED!). Brandon grew up in southern West Virginia, and established the Coalfield Development Corporation in 2009 to be a force for systemic change across the region.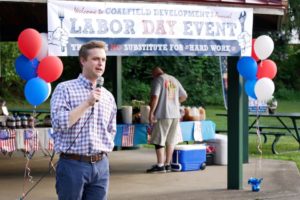 Coalfield hosts a family of social enterprises providing mentorship, education and employment in Appalachia:
o Reclaim Appalachia – Mine land reclamation
o Rewire Appalachia – Solar power
o Rediscover Appalachia – Arts & culture
o Refresh Appalachia – Sustainable agriculture
o Revitalize Appalachia – Green-collar construction
Notably, they developed the 33-6-3 Workforce Development Model. This model hires formerly unemployed people, with an emphasis on former coal industry workers, to work-crews that staff the social enterprises listed above. These work-crews provide labor on community projects that create assets for local residents. Each week, crewmembers complete 33 hours of paid work, 6 credit hours of higher education, and 3 hours of personal development mentorship. At the end of their 2.5 year contract, crew members have earned an Associates Degree, invaluable work experience, and clarity on assets needed to attain life goals.
Since 2009, Coalfield has generated:
Over 60 new jobs created and 6 new businesses started in southern West Virginia
More than 250 professional certifications facilitated for formally unemployed people and over 20 alumni placed in full-time careers
Over 175,000 square feet of abandoned property revitalized
Over $10,000,000 of fresh investment attracted to southern West Virginia
Along with MACED, Coalfield is a member of the Central Appalachian Network, a network of nonprofits organizations who share resources and lessons learned from their work in over 150 counties in the Central Appalachian states of Kentucky, Ohio, Tennessee, Virginia, and West Virginia.
MACED nominated Brandon for the Ashoka Fellowship as embodies what it means to be a "changemaker," someone Ashoka defines as bringing new, systems-changing ideas to creating equitable and resilient communities. Ashoka is a global network of over 3,000 social entrepreneurs in 93 countries. They provide Fellows with guidance and support to continue their work.
MACED is always keeping an ear out for the region's amazing changemakers. If you know of someone in your community, please contact Ketaki at ketaki@mtassociation.org.
Coalfield Development Corporation and MACED testified in a congressional hearing on February 12, 2019, about climate change. Read more here!