On March 2, 2022, U.S. Secretary of Energy Jennifer Granholm visited Kentucky to share how the Department of Energy and the new Bipartisan Infrastructure Law are supporting advancements in clean energy technology, strengthening supply chains through American manufacturing, and ensuring an equitable transition to renewable energy for Appalachia.
Peter Hille, the Mountain Association's President, was invited to join a group of leaders in a discussion with Secretary Granholm and Governor Andy Beshear about Kentucky's role in the US clean energy future. Also represented were:
Aamir Paul, U.S. President, Schneider Electric
Cathy Waddell, Controller, Nucor Steel Gallatin LLC
Colby Hall, Executive Director, Shaping Our Appalachian Region (SOAR)
Ed Devine, Business Representative, IBEW Local 369
Jonathan Webb, CEO, AppHarvest
Mary Shearer, Executive Director, Kentucky Habitat for Humanity
Rebecca Goodman, Cabinet Secretary, Kentucky Energy and Environment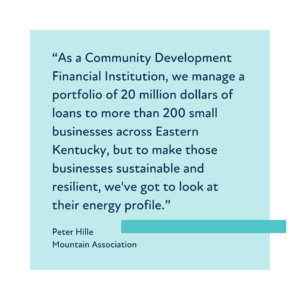 Much of the conversation focused on how much the extensive supply chain for clean energy technology relies on local production and local people, and how clean energy jobs are growing across the state. One example is the recent announcement of the new Ford battery facility, which will product Electric Vehicle (EV) batteries.
Granholm talked about how the Infrastructure package would add to the momentum in Kentucky, "Y'all are going see about five billion dollars in road infrastructure, you're going see about 100 million dollars for broadband infrastructure, you're going to see 69 million dollars for building out EV infrastructure."
Acknowledging Kentucky's history of coal production, Granholm said, "People who have powered this country for the past 100 years, have gotten us to where we are. We're so grateful to them and we want them to see themselves empowering the country for the next 100 years."
Each person at the table had an opportunity to share more about their work. After sharing a brief history of the decline of coal and how the Mountain Association is working to build a new economy, Peter used this time to describe how we have worked with Isom IGA, a small grocery store in the community of Isom, Kentucky, in Letcher County, to illustrate how clean energy creates jobs and savings for Eastern Kentucky.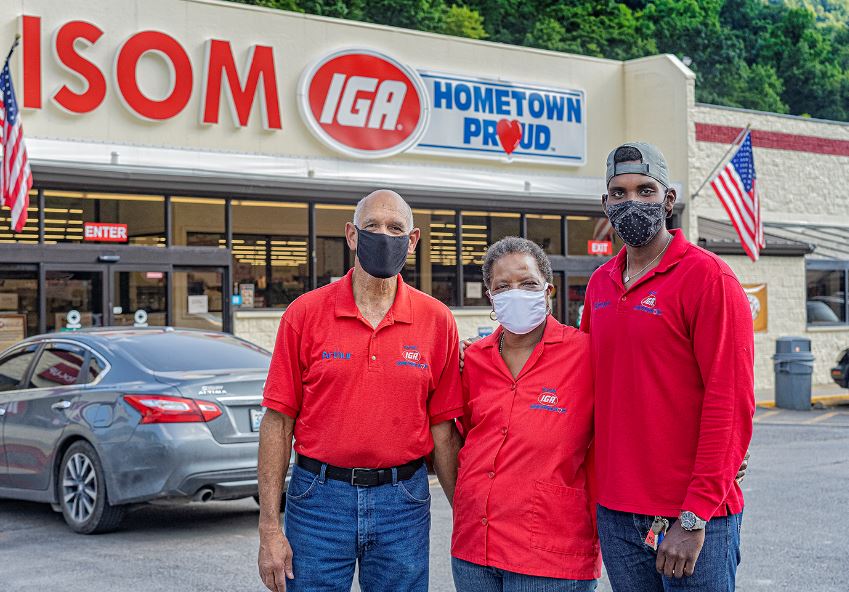 "Gwen Christon started working at Isom IGA more than thirty years ago as a cashier; today, she owns the store. More than a decade ago, we helped her to do a lighting retrofit to put in high efficiency lighting. She said 'this is great, I'm saving money and the store looks a lot better,' so then she came back to us and said 'I'm ready for the big one.'
The big one for grocery stores – and they're high energy users – is getting HVAC and coolers to work together, instead of working against each other. She's now saving more than $40,000 per year because of that efficiency. So she came back again and said "OK, I'm ready to put solar panels on the roof.'
Now, all of that is jobs– jobs for local people. We've got houses and businesses all over Eastern Kentucky that could be retrofitted with energy efficiency and renewables. We can't send these overseas to be retrofitted. That's work that has to happen right here."
Peter called upon Secretary Granholm to support existing efforts in Kentucky, like the on-bill financing program we created with six rural electric coops to support residents in upgrading their homes.
"Honestly, Madam Secretary, when the Clean Power Plan went away, utilities got less interested in providing that energy efficiency. So we think that there's leadership that is needed at the federal level to again incentivize our utilities and help them recognize the value of getting out from underneath the $2.1 billion dollars of debt that our rural electric co-ops have in [stranded] coal assets that they had. [This is needed] so that we can all move, together, to the new clean energy economy." Note: we're working with the Rural Power Coalition to push for policy that supports this.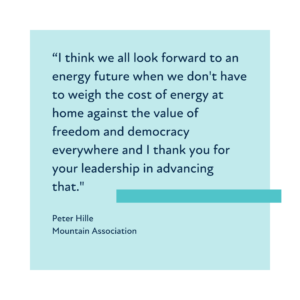 Secretary Granholm's visit was just days after Russia began invading Ukraine, and the United States and its allies were considering the potential impacts on domestic energy prices if they were to halt Russian oil imports.
"I think we all look forward to an energy future when we don't have to weigh the cost of energy at home against the value of freedom and democracy everywhere and I thank you for your leadership in advancing that," Peter said to the Secretary at the end of his remarks.
After a round of applause in solidarity with Ukraine, Secretary Granholm said, "No nation has ever been held hostage to access to the sun or access to wind."
"We should be moving in a direction away from volatility of fossil fuels from countries that do not have our interest at heart," Granholm added in a different part of her Kentucky visit.
We were honored to be invited to discuss our work in Appalachian Kentucky at this event, and to push for the federal government's support of our movement toward a new energy economy. The recent global developments underscore the importance of our work here at the Mountain Association, and are further motivating us each day.
To learn more about our energy work, please visit: https://mtassociation.org/energy/