This is part of our story series, EKY Flood Relief: Neighbors Helping Neighbors.
Flooding in Kentucky can't be prevented. Our geography and history prove that flooding is an unfortunate inevitability of the place we call home. In the case of last year's July 2022 floods, huge efforts have been made to make safe housing available above the floodplain with nearly $300 million in government funds released to 20 flood impacted counties to aid in housing solutions. However, familial properties passed down through generations are settled in these hills and hollers.
Some families choose not to leave – the pride of that land runs deep, even if that means another flood is a matter of "when" not "if". For many, it's also not financially possible to leave, and equally as hard to repair damage flood after flood.
Whatever our situation, how do we ensure we're prepared to protect our homes against the next flood?
Know Your Flood Risk
A quick search here can be done to see if your home is prone to flood hazards. Most homeowners insurance does not cover flood damage. FEMA suggests doing an annual "insurance check-up" with your agent to make sure you have the right coverage and amounts of coverage. It is important to note that SBP, disaster recovery experts, suggests that everyone have flood insurance if they can afford it, because flood plain maps are only a guess and not a guarantee.
Make A Plan
We saw our communities leap into action last year, neighbors helping neighbors. We also saw that we were unprepared for disasters of this magnitude and there is a need for coordination in our efforts. Individuals in flood prone areas should make a family safety plan detailing:
How will I receive emergency alerts and warnings?
What is my shelter plan?
What is my evacuation route?
What is my family/household communication plan?
Do I need to update my emergency preparedness kit? Details on what to include in your kit can be found here.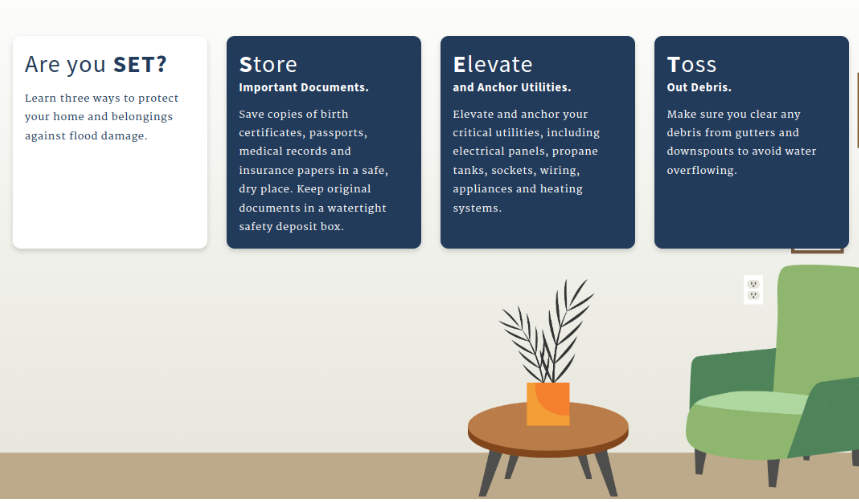 A family plan can be made using this template and filling in your family's information. Store this in a high, dry place with your emergency preparedness kit and other important documents and discuss the plan with your family so everyone is informed. Since we can't predict where we'll be when high waters come (or forest fire), it's ideal to have these plans and kits stored in multiple places (the car, at work, at home).
Communities Also Need to Plan
Communities should also implement their own plans. Many counties formed "Long Term Recovery Groups" after July 2022. For example, the Floyd County LTRG, renamed Floyd County Disaster Recovery Coalition, was formed "to coordinate disaster recovery services, to communicate effectively, and to prepare for future disasters in Floyd County." They have since been able to refine a system that makes meeting people's post-disaster needs simple and effective, and create a comprehensive community resource guide that details who does what post-disaster (i.e. churches that offer aid, volunteer aid organizations, FEMA resources, and first responders more).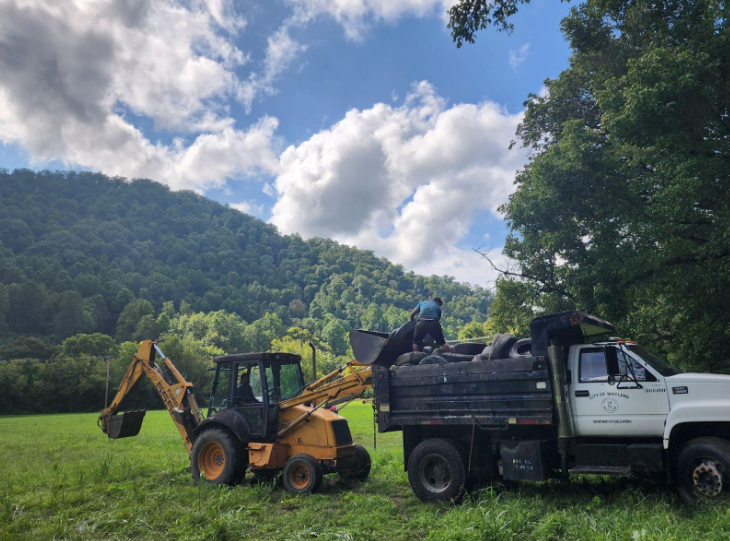 Additionally, a great idea that emerged from their work was putting together a community "disaster trailer." Floyd County's disaster trailer is hosted at St. Vincent Mission, a nonprofit that serves their area, and is ready to mobilize at any moment. The trailer is loaded with loaner tools, ranging from extension cords, to power tools, to mops, buckets and personal protective equipment, like masks and gloves. The trailer is intended to be used by volunteers to immediately start cleaning and repairing homes, but tools can also be used by community members to make repairs themselves with equipment that they don't have or may have lost to disaster.
Together, these proactive steps create an opportunity to overcome one of the most uncontrollable factors of our region.
---
Helpful Tip 1: Find information and resources for creating your family's Disaster Safety Plan, including templates, kit checklists, and more, visit https://www.ready.gov/plan
Helpful Tip 2: Learn how you can assist your community. If you're in the Floyd County area, for example, the Floyd County Disaster Recovery Coalition hosts monthly public meetings on Mondays at 2:30pm in Prestonsburg. For more information, check out their Facebook page: https://www.facebook.com/p/Floyd-County-Long-Term-Recovery-Group-100087629472613/ . For information on other LTRGs, email info@mtassociation.org.
---
About this story series:
Mountain Association is partnering with What's Next EKY?! and Vision Granted to host a series of stories showcasing the incredible flood relief efforts across the region in response to the flood on July 28, 2022. With a goal to share hope and spark new ideas about ways you can help in your own community, these stories will showcase the creativity and hard work of local people, provide helpful flood recovery tips, and feature stories of neighbors helping neighbors. If you have a story or helpful tip to share, please contact visiongrantedconsulting@gmail.com. Please learn more about this series here.