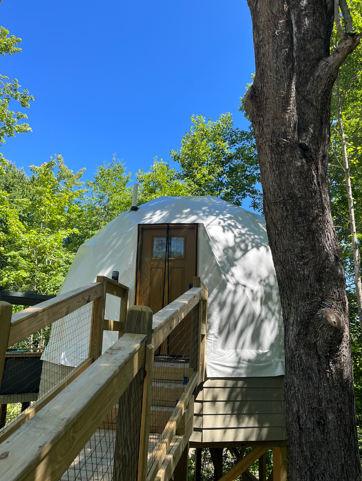 As long as humankind has been building structures, we've been exploring various geometries. There is one structure design that stands apart from others: the geodesic dome. In addition to enclosing the most space while using the least amount of material, the geometry of triangles fitting together make them extremely resilient to high winds. The shape allows great air circulation in all seasons, and less surface area means they are less impacted by temperature swings as cold and warm air flow around the exterior of the dome rather than forcing its way in.
Rhonda Robinson, owner of the Humble Hippie Experience, always knew she wanted to construct a dome to offer a 'unique stay' experience on her 1.54 acres property in Rogers, Kentucky.
Rhonda is from Paintsville and had seen the popularity of the Red River Gorge area grow and grow in recent decades. She wanted to start a small business to generate income for her and her son. She purchased the first of twenty lots located behind the Appalachian Rose Farms Events by Jenny Lea, a popular and beautiful wedding and event space in the Gorge, and got to work.
She constructed the dome which features a 10 foot panoramic window, a 5 foot sky light and beautiful interior paneling made using a torched plywood method Rhonda learned on YouTube. She built a Murphy style bed to hold a queen size mattress and a loft to accommodate an additional lounge space. She worked in a full-size bathroom, kitchen and workspace in the 20 foot space, which features good Wi-Fi, heating and air conditioning, and water provided by a cistern. Outside of the dome, there is a fire pit and a hot tub. Rhonda also hopes to build in paths that wind down the hill to the back of the property.
"I come from a creative family. My ideas changed daily, mostly when I was lounging in my hammock while taking a break from clearing brush and trees," Rhonda said. "I would daydream about what I wanted to include and how I could fit it all together. I could see it so vividly in my mind and would try to sketch or draw it, but I'm no artist. There are many horribly drawn sketches of the inside layout. The outside plans never changed. I knew exactly what I wanted and I'm still working on it a little bit at a time."
Rhonda travels occasionally for work and is always looking for a few things in her lodging choices: unique, dog friendly (for her beloved dog, Tillie!), and an easy check out experience. These are the same things she has strived to provide in the Humble Hippie Experience. She doesn't charge a dog fee and the only check-out rule is to "be respectful." So far, guests have left the property in great shape and the first guest even painted a beautiful painting for her to put on display. Rhonda is supported by a local resident who cleans and cares for the property after guests check out.
Just 10 minutes from Natural Bridge State Park and 20 minutes from Red River Gorge, since opening in April 2023, Rhonda has already had guests from Kentucky, Indiana, Michigan, Ohio and Texas, and has bookings out as far as the fall.
"I've enjoyed building everything here and I plan to do more of it."
She said she one day hopes to build more unique stays, perhaps in her hometown of Paintsville, and near Cumberland Falls – two of her other favorite places in Kentucky.
The Mountain Association is proud to support Rhonda with financing for the dome, as well as business support for her to work with an Airbnb super host on how she can further improve the experience. We are also supporting her exploration of adding solar to the property via our energy team. We look forward to seeing how Rhonda grows the Humble Hippie Experience!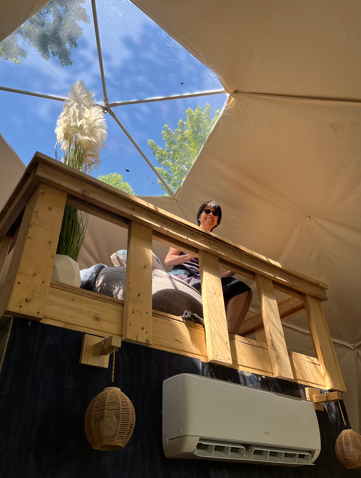 Check out her property here.