We are now looking for communities interested in hosting the "How to Airbnb" training program. In this program, participants learn the skills they need to host successful Airbnb properties in eastern Kentucky —from writing the listing description, to learning their market, to complying with local tax and business regulations.
In 2018 and 2019, we worked with tourism partners to host workshops in the following communites:
Hazard – Perry County
McKee – Jackson County
Slade – Powell County
Manchester – Clay County
Grayson – Carter County
Whitesburg – Letcher County
Irvine – Estill County
Somerset – Pulaski County
With the success of this program, we are opening up more opportunities for communities to host the training across Eastern Kentucky.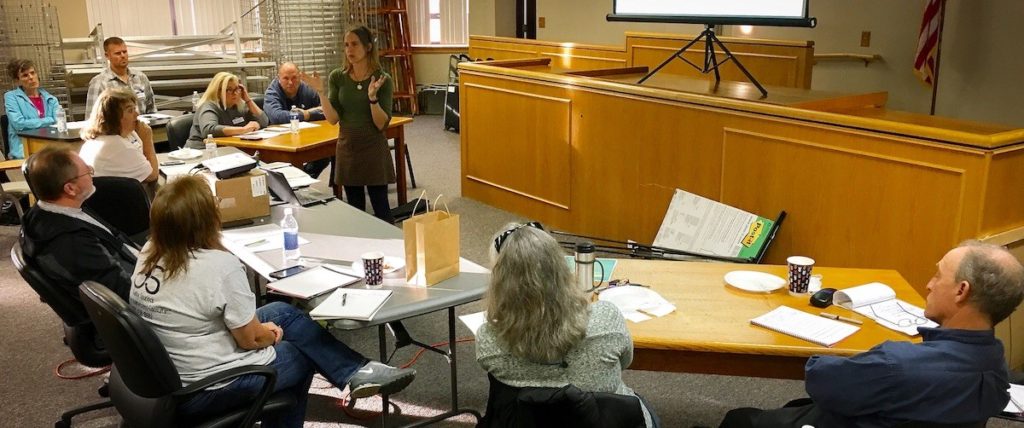 The training came in response to research MACED conducted looking at what inputs are needed in the region to support the experience economy in eastern Kentucky. Lodging came to the surface as a shared need in many communities, not just for tourists, but also for traveling workers and visiting family members.
MACED developed the training in 2017 in conjunction with the Brushy Fork Institute at Berea College, as well as two regional Airbnb hosts who both informed the curriculum and facilitate the training.
"The beauty of Airbnb is that it's a fairly easy to use, secure platform that can adapt to many different situations—from a room in someone's home to a remote cabin without electricity," says MACED's Leslie Ferguson-Oles.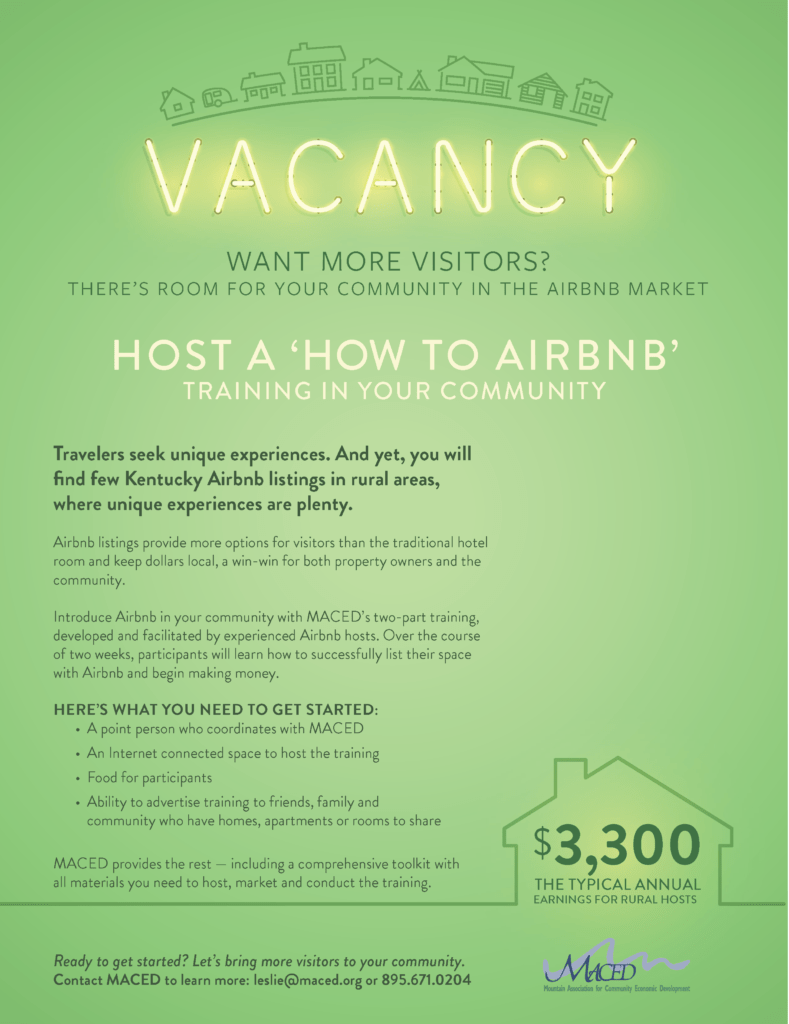 "Local Airbnb hosts don't have to try to be a chain hotel. What's important is learning how to market assets and manage what hosts may see as liabilities. For example, while we as local residents often see spotty cell service as a nuisance, visitors often delight in unplugging for the duration of their stay—as a host, you just need to know how to manage for that."
Airbnb is a generally low-risk way for people to test the concept and market, often times without much initial investment. It has the potential to support family incomes while connecting visitors in need of lodging with the region's most precious asset—it's people.
Interested in hosting?
Here's what you need to get started:
• A point person who coordinates with MACED
• Food for participants
• Ability to advertise training to friends, family and
community who have homes, apartments or rooms to share
MACED provides the rest — including a comprehensive toolkit with all materials you need to host, market and conduct the training.
Let's bring more visitors to your community. Contact Zuojay Johnson at zjohnson@mtassociation.org or 859-575-0313 to learn more.
Read a success story of how one participant started an Airbnb in Clay County and is now making over $1,000 per month!