On a bright November day, a group of electrical technology students from Big Sandy Community & Technical College loaded up in a van to head to East Kentucky Power Cooperative's headquarters in Clark County, Kentucky.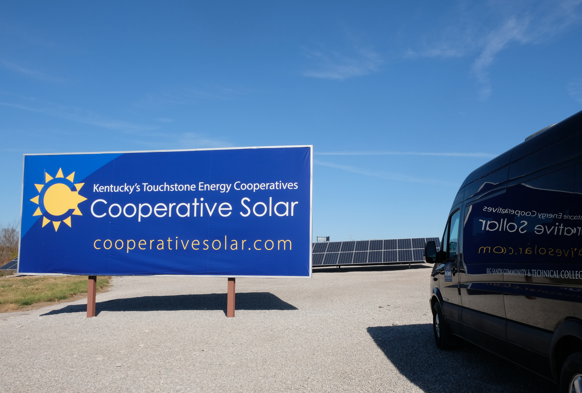 Joseph Compton, professor and the electrical program coordinator at BSCTC, worked with the Mountain Association's energy team to plan a solar farm and rooftop solar tour for students. The students are earning a Solar and Wind Energy certificate along with their electrical technology degrees. The program prepares them for entry-level electrician positions in industry and building trades and the additional certificate gives them an advantage for jobs in the clean energy sector.
In planning the tour, Compton wanted the students to see how renewables are adding to the mix of energy generation resources that power our country.
East Kentucky Power Cooperative is a nonprofit owned by 16 cooperatives that serve more than 1 million member-owners in 89 Eastern and Central Kentucky counties. Their energy generation mix includes two coal-powered plants, two natural gas plants, six landfill gas generation facilities, two hydroelectric facilities (via power purchase agreement), and, as of 2017, one solar farm.
"Around that point in time, solar was getting both more affordable and more reliable, so a major solar investment made good sense for our members," EKPC External Affairs Manager Nick Comer said.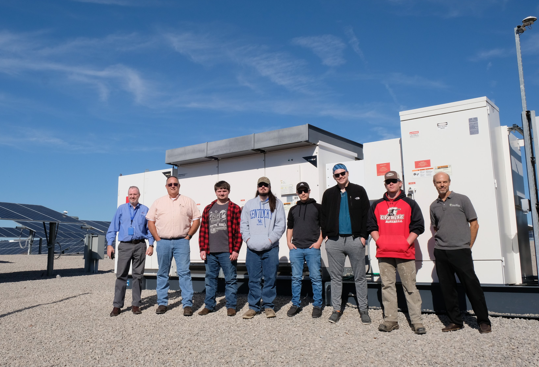 The Cooperative Solar Farm One is located on 60 acres at EKPC headquarters. It features 32,300 panels, along with 10 acres specifically landscaped for pollinator species, honey bee boxes, blue bird boxes, and a pollinator station. The farm generates enough electricity to power 1,000 homes.
Comer explained that member-owners of 16 cooperatives can license one of the panels for 25-year at a one-time cost of $460. To cover the average household's energy use, a member would need to license 25 to30 panels. Before the high price spikes last year, the expected payback for each license was roughly 15 years, but if prices of traditional energy sources remain high (energy prices across Kentucky were up more than 16% in 2021), that payback is likely to come faster.
Comer highlighted how the Inflation Reduction Act (IRA), signed into law in August 2022, is now incentivizing cooperatives to make transitions to clean energy. EKPC and other utilities also are focused on maintaining the reliability of the power grid as intermittent renewables provide a greater share of the nation's energy, he said.
Earlier this year, prior to the IRA being announced, the US Secretary of Energy visited Kentucky and the Cooperative Solar Farm One to learn about Kentucky's energy needs. Mountain Association's president, Peter Hille, also had the chance to speak with Secretary Granholm during her visit to describe how leadership was needed to help our cooperatives retire billions of dollars of debt that rural electric co-ops have in coal assets. The IRA represents a historic investment to make this happen. EKPC has been forward-thinking in having already added solar to their energy generation mix in a significant way.
Followed by the solar farm tour, Josh Bills, Commercial Energy Specialist at the Mountain Association, took students to visit a "grid-tied" rooftop solar installation in Madison County at Peter Hille's home. The students in Compton's program have been completing hands-on electrical projects on a model house, including how to install solar panels that are grid-tied, meaning they are tied to the larger electric grid that bring power to our homes and buildings through electrical lines.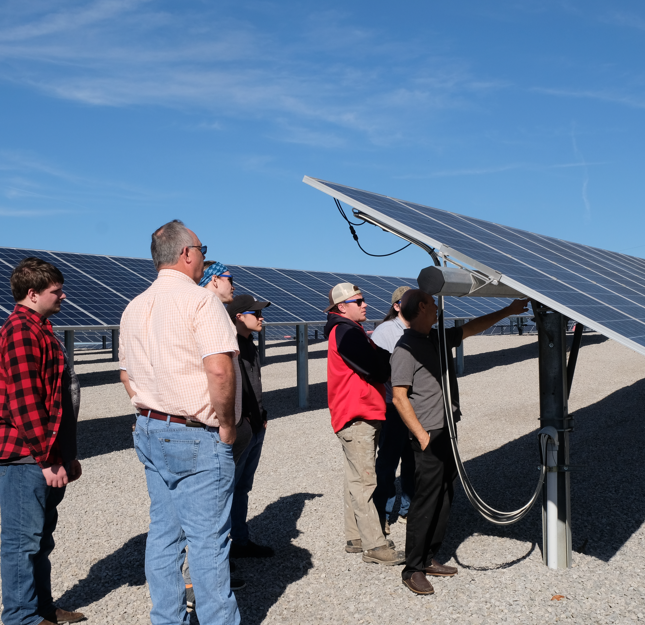 Bills has partnered with Compton for years to take classes on solar tours across Eastern Kentucky as just one small part of how we have helped to support workforce training in clean energy over the years.
More jobs in renewable energy are opening up and have potential to base in Eastern Kentucky, especially with large scale solar projects being discussed in places like Martin County and the popularity of rooftop solar growing (Solar Holler, a solar installer right across the border from BSCTC in West Virginia, just celebrated its 1000th installation for example!).
"We're looking forward to having students from right here at home qualified for these jobs," Compton said.
The Mountain Association is also excited to share that we are sponsoring Compton and a student to attend the North American Board of Certified Energy Practitioners Commercial Energy conference in March 2023.
Students from the electrical technology program often go on to become licensed electricians, master electricians, and contractors. Many are replacing a wave of retiring electricians with average wages of around $51,000 per year or $24 per hour. The typical class size is about 10 to 15 students. Shadowing is available for those interested in the program. Learn more here.