Joseph Compton wears a "Support the Trades" t-shirt as he stands with a group of electrical technology students in front of a solar installation on a farm in Floyd County, Kentucky.
Compton is a professor and the electrical program coordinator at Big Sandy Community and Technical College. One offering at BSCTC is a degree in electrical technology which prepares students for entry-level electrician positions in industry and the building trades. With renewable energy becoming more popular, the industry is growing and adding new jobs every day. Given this growth, Compton developed a Solar and Wind Energy certificate for students to earn alongside their degrees.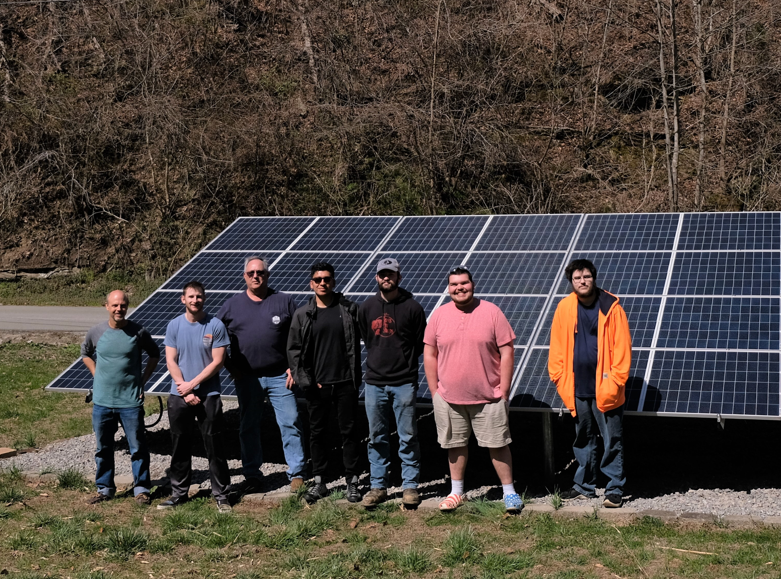 "I want to see our students be competitive for these new jobs," Compton said. "With the Solar and Wind Energy certificate under their belt, they have a good amount of background in these technologies, giving them an edge on others in the field."
In the electrical trade, hands-on learning is essential, and solar and wind is no different. The students in Compton's program have been completing electrical projects on a model house, including how to install solar panels that are "grid-tied", meaning they are tied to the larger electric grid that bring power to our homes and buildings through electrical lines.
Compton invited Josh Bills, an energy specialist with the Mountain Association, to join the class to share his experience with facilitating solar projects in Eastern Kentucky. After his classroom presentation, Bills led a field trip to two local solar installations on March 21, 2022. When he has been a guest in Compton's classes in years past, they had to travel over two hours to Berea to visit a solar installation, but now there are several projects within a short drive of the college.
The first trip was to a ground-mount solar project at a farm in Banner, Kentucky, in 2020 installed by Ben Tatum of Appalachian EnergyWorks, a new business located in the Red River Gorge area. There, Bills described how Tatum thoughtfully designed the system to maximize its energy production and savings for the farm. For example, gravel underneath the panels reflects sun onto the back of the bifacial panels, generating about 10 percent more energy. He also went over how the farm was able to utilize the USDA's Rural Energy for America Program and the Kentucky Agricultural Development Fund's on-farm energy program to help pay for the project.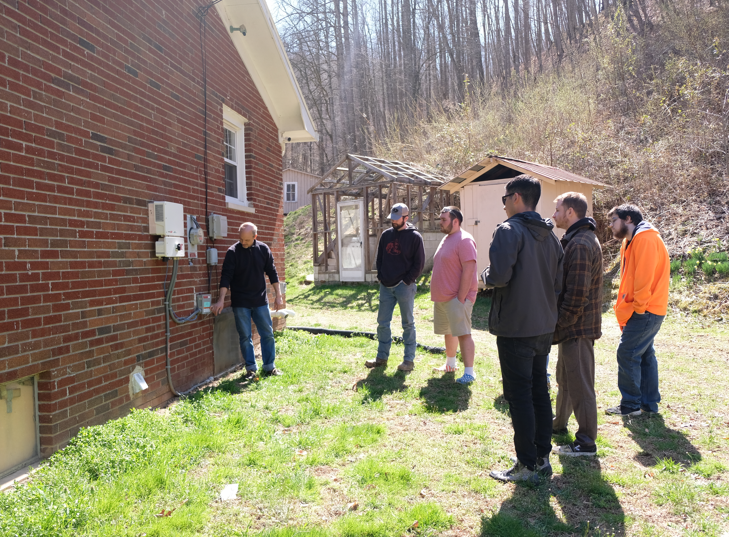 After the farm, the group headed to St. Vincent Mission, a nonprofit down the road in David that provides a number of programs for the community, including a food pantry, thrift store, emergency assistance, and an internship program for people who have a difficult time finding work. Their rooftop solar was installed in 2018 to power their volunteer apartments. Bills pointed out the system's rapid shutdown, a required component that shuts off the electric production when the meter is turned off so as not to shock anyone on the roof during an emergency like a fire.
Jennifer Sparkman of St. Vincent Mission met the group to explain how the nonprofit has benefited from the savings and how they used grants to help pay for the project's completion.
With panels getting cheaper and with bills getting more expensive, solar energy is becoming more and more accessible every year for businesses, nonprofits and homes, alike.
"We're getting new inquiries nearly every week from people in interested in offsetting their high energy costs by adding solar," Bills said.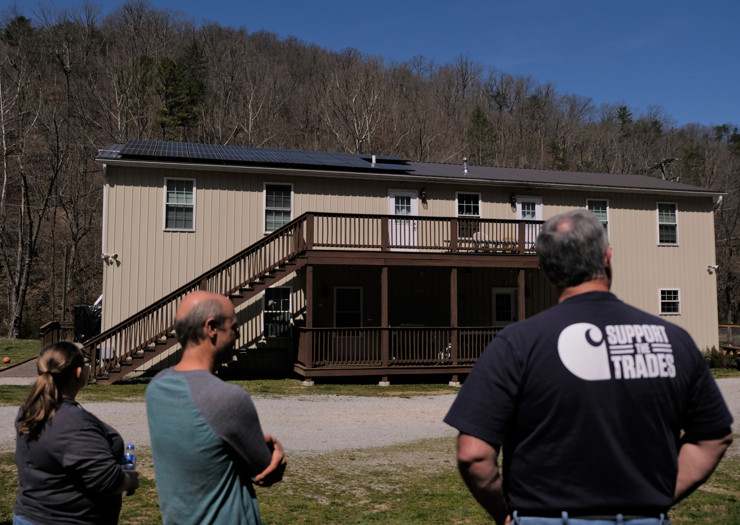 The Mountain Association has helped to support workforce training in clean energy over the years. We predict there will be more jobs in renewable energy open up over the next several years with potential to base in Eastern Kentucky, especially with large scale solar projects being discussed in places like Martin County.
"We're looking forward to having students from right here at home qualified for these future jobs," Compton said.
Students from the electrical technology program often go on to become licensed electricians, master electricians, and contractors. Many are replacing a wave of retiring electricians with average wages of around $51,000 per year or $24 per hour. The typical class size is about 10 to 15 students. Shadowing is available for those interested in seeing if it is a right fit for them. To learn more about the program, please visit: https://bluegrass.kctcs.edu/education-training/program-finder/electrical-technology.aspx