Randall Howard is from Harlan County in far southeastern Kentucky.
Growing up, he developed a passion for caring for homes of the people he loved in those hills. This passion led him into the construction business where he worked for several years. Like many in the area, he eventually ran into an opportunity he couldn't pass up at a coal mining job.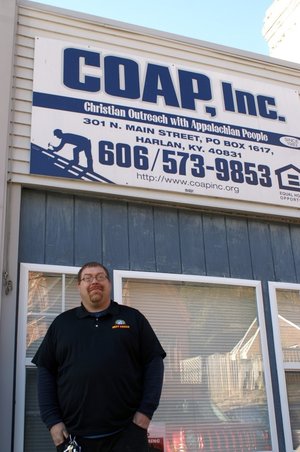 After nine years of working at a surface mine, Randall was laid off. Looking for a new opportunity, in fall of 2017, Randall found the New Energy internship at the Mountain Association.
Funded by the Appalachian Regional Commission, the Mountain Association's New Energy Internship offers former coal industry or out-of-work individuals six-month internships to train on assessing building and homes for energy efficiency issues, implementing energy efficiency upgrades, and on renewable energy systems. This work includes coordinating complicated retrofits with contractors, and implementing smaller retrofits, particularly in lighting and duct sealing. It also includes training on communications, sales and marketing, and small business startup skills.
The Mountain Association partnered with COAP, Inc., a non-profit in Harlan, Kentucky, to offer an internship there for six months.
COAP works to provide sustainable, safe and affordable housing to low-to-moderate income families and individuals in Harlan, Bell and Leslie Counties. In more recent years, they have been working to offer energy efficiency support through a program called Appalachia Heat Squad in order to help homeowners save on rising utility bills.
With his background in home repair and construction, Randall was a perfect fit with COAP. During Randall's internship, he worked with COAP's Appalachia Heat Squad. He gained several important energy industry certifications, including one which allows him to inspect homes for potential health problems.
After completing the internship in 2018, he was hired on as a full-time employee to manage the program.
In this position, he spends most of his time performing energy audits for homeowners, making necessary energy efficiency upgrades through retrofitting existing homes, and building new homes.
Being from Harlan County, Howard easily connects with homeowners he meets, who often feel timid or embarrassed about having someone look around their home.
"I'll try to connect with them in any way possible to try to ease their mind about letting me go through their home," Howard said. "I guess they connect with me pretty good because I have lived in the past in some of the conditions that they live in. I tell them I ain't here to judge you because you've got clothes piled up in the corner or dirty dishes in the sink. That's no concern to me unless there's mold growing on it."
Results make a huge different. Randall describes how one homeowners bill was cut in half, and their life tremendously improved.
"We went in, it didn't have insulation under the floor, and the roof was leaking. We put a new roof on, insulation under the floor, a new heat pump. I had to go back later to test everything out. I walked in and there's an 80-year-old man. He stood up, walked over to me, and gave me a hug. He said, 'We've been here 15 years and I've never been as comfortable as we are now. You've made this house better, so much more comfortable.'"
Randall said he is also grateful to work in a place where people take care of each other when they need it, referencing a period of time in which he was sick and his co-workers came together to give him some of their own vacation time so he could recuperate.
"Everybody is willing to go out of their way to help their fellow co-workers out. If they cannot answer a question they will help you find the answer. They will help you on a work or personal level," Randall said.
Randall currently lives in the Leatherwood community in Perry County.
For more information, please read Grist and Yes! Magazine features. In each, Randall shares about his experience working in clean energy in Appalachia.
The Mountain Association's New Energy Intern program is proud to have graduated seven individuals, with two working at local non-profits to advance energy efficiency and clean energy (Frank Morris, Randall Howard), four starting their own energy services contracting businesses (John Craft, Scott Shoupe, Zac Ebersole, Ben Tatum), and one working for a private company (Megan Stepp). As of March 2020, there are three individuals currently enrolled in the internship program.