Frank Morris was raised in the city of Hazard. Like many in the area, Morris got a job in the coal mines, beginning his career with Perry County Coal where he did a little bit of everything, from working on the coal shoveling belt to diesel mechanics.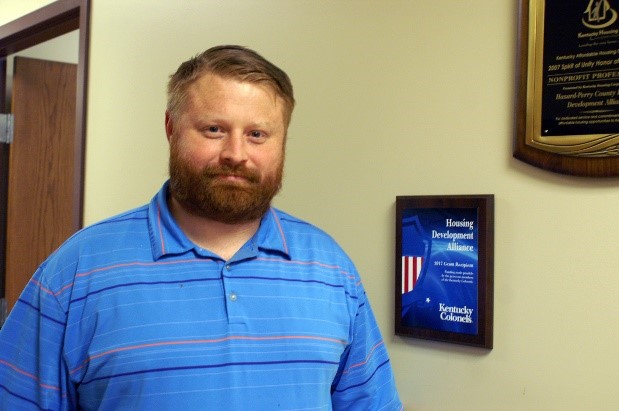 "Back then, if you were going to pick to live around here and make good money, you either went into the coal business or you went into the medical field," Morris said.
After working in the mines for seven years, he was laid off. Morris took a job at Walmart before he and his wife realized they could not afford childcare. He quit his job to become a stay-at-home dad, and started his own construction business.
Shortly after, Morris found MACED's New Energy internship program.
Funded by the Appalachian Regional Commission, MACED's New Energy Internship offers former coal industry or out-of-work individuals six-month internships to train on assessing building and homes for energy efficiency issues, implementing energy efficiency upgrades, and on renewable energy systems. This work includes coordinating complicated retrofits with contractors, and implementing smaller retrofits, particularly in lighting and duct sealing. It also includes training on communications, sales and marketing, and small business startup skills.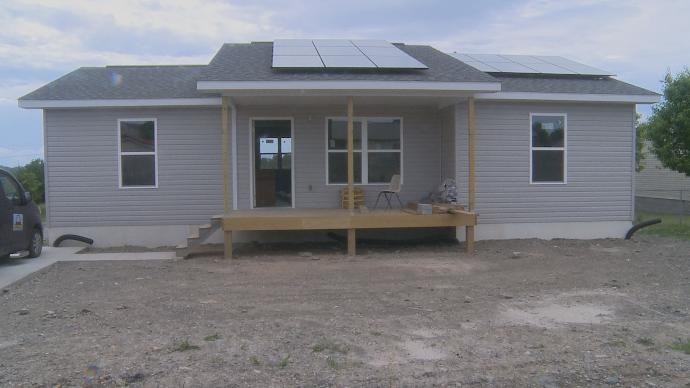 "Energy efficiency is something that is especially needed in the coal regions," Morris said.
"Around here, electricity has always been cheap. Now we're getting all these rate increases. That touches everybody—not just doctors and lawyers but grandmothers on fixed incomes, people who have to make a decision: 'If I don't pay my electrical bill they'll cut my power off, but if I do, I might have to miss a few meals this month. Or do I really need my blood pressure medicine this month?' It's a hard decision."
In September 2017, MACED partnered with Housing Development Alliance (HDA), a non-profit based in Hazard, that works on affordable housing to offer Morris an internship placement at HDA working on energy efficiency.
"[We] put people in homes that normally wouldn't be homeowners… but if they can't afford their power bill, then what are you accomplishing?," Morris said describing the importance of HDA's energy efficiency program.
MACED's Energy Team worked with Morris to help prepare him for his placement at HDA, providing on-the-job energy auditing training and access to Building Performance Inspector (BPI) certification. Through MACED, Morris was also able to participate in Kauffman FastTrac, which is an immersive, six-week business training course.
At HDA, Morris managed the Appalachia Heat Squad Program, which provides home energy audits and retrofits. When Morris completed his internship, he was brought on full-time to manage the Heat Squad program as an employee of HDA.
Morris said he loves helping people improve their homes and their health through his program. For example, Morris said in one case, "An 80-year-old woman was in a nice house, but her hot water heater and her furnace were dumping carbon monoxide into the air because the [exhaust] pipe was completely rusted and the furnace [exhaust] pipe wasn't even attached."
Morris said his own quality of life has also improved by having a job that allows him to put his family first and work second.
"We're in a better position financially and with our home lives. I'm able to be home every day, most days, before 5 o'clock. That's something I've never had before in my life."
For more information, please read Grist and Yes! Magazine features, or listen to this Clean Power Planet podcast. In each, Morris shares about his experience working in clean energy in Appalachia.
MACED's New Energy Intern program is proud to have graduated seven individuals, with two working at local non-profits to advance energy efficiency and clean energy (Frank Morris, Randall Howard), four starting their own energy services contracting businesses (John Craft, Scott Shoupe, Zac Ebersole, Ben Tatum), and one working for a private company (Megan Stepp). As of March 2020, there are three individuals enrolled in the internship program.